Everything We Know About Blane Salamoni, an Officer Involved in Alton Sterling Shooting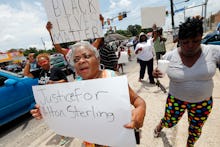 Police officials in Baton Rouge, Louisiana, on Wednesday named Blane Salamoni as one of two officers involved in the fatal shooting incident of Alton Sterling. Based on available information, it was unclear if Salamoni was the officer who fired the shots.
Sterling, a 37-year-old black resident of Baton Rouge, died Tuesday after the encounter with the officers outside of a Triple S Food Mart in East Baton Rouge Parish. One officer used a stun gun on Sterling and another tackled him to the ground, before multiple shots were fired into his chest and back, authorities said.
Both Salamoni and the other officer told East Baton Rouge District Attorney Hillar Moore that they felt "completely justified in using deadly force" in the encounter with Sterling, according to the Advocate.
Here's what else we know about Salamoni:
He is a four-year veteran of the Baton Rouge Police Department.
According to investigators at WBRZ-TV, Salamoni has been investigated for uses of force, on a handful of occasions. In August 2015, officer was investigated over a "physical altercation" that resulted in a head injury to the person he was trying to arrest. That person needed stitches to close the wound, according the public records. Police Chief Carl Dabadie closed complaint against Salamoni, after determining the claim against the officer was not substantiated.
It was not immediately clear how much Salamoni is paid on the Baton Rouge force. According to a 2015 report by the Advocate, the starting salary is $31,390 a year.
He is assigned to the Uniformed Patrol Division.
The division is the largest bureau of the Baton Rouge Police department and "is the primary point of contact for services to the public," according the city government's website.
He is on leave while federal officials take over the investigation.
As is standard procedure after shootings, Salamoni was placed on administrative leave while the incident is investigated. Louisiana Gov. John Bel Edwards announced Wednesday that the shooting would be investigated by the U.S. Department of Justice's civil rights division.
He may have been wearing a body camera that fell off during the incident.
Salamoni and the other officer both wore body cameras during the incident, according to WAFB-TV. Baton Rouge Police Chief Carl Dabadie Jr. told a local state lawmaker that the officers' cameras fell off during the scuffle seen in separate video footage of the shooting.
(Editor's note: This video contains graphic footage.)
Read more: