Days Before Deaths of Alton Sterling and Philando Castile, NYPD Killed Delrawn Small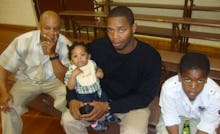 One day after the nation celebrated its 240th birthday, Americans learned the names of Alton Sterling and Philando Castile – black men under the age of 40 killed by police in Louisiana and Minnesota. Both deaths were captured on smartphone video, each of which went viral shortly after the respective incidents.
But before Sterling and Castile came Delrawn Small, a black man shot and killed by an off-duty New York Police Department officer during a road-rage incident on July 4, the New York Daily News reported. Authorities have refused to release video footage of the incident – but the case has already sparked local protests in Brooklyn, New York.
Small, 37, his girlfriend, Zaquanna Albert, their infant son and at least one of Albert's two daughters drove through Brooklyn to meet up with family to celebrate the holiday. But before they reached their destination, Small encountered a 2002 Nissan Altima driven by Wayne Isaacs, a 37-year-old three-year veteran of the NYPD.
At a stoplight, Small exited his vehicle to argue with Isaacs and the incident escalated to violence, according to authorities. A witness said Isaacs cut Small's car off on the road. Small reportedly punched Isaacs three times in the face while Isaac was seated in his vehicle before the off-duty officer used his service weapon to fire three point-blank shots at the man.
Albert and the children saw the entire thing unfold, according to the Daily News. "Words can't begin to explain the pain I feel right now," Albert wrote in a Facebook post Monday.
The incident draws striking similarities to the Castile shooting that occurred in a suburb of St. Paul, Minnesota. On Wednesday, Diamond Reynolds livestreamed to Facebook the moment a Falcon Heights officer fired shots at her boyfriend; Reynold's daughter was sitting in the back seat. That incident came just one day after video captured police fatally shoot Sterling outside of a convenience store in Baton Rouge, Louisiana.
Perhaps most notably is this: With the reporting of these two deaths came the circulation of two numbers — the 114th and 115th known black men killed by police officers in the U.S. this year. Those numbers, provided via a longterm research project by the Washington Post, do not take into account people killed by off-duty police officers, like Small, suggesting those numbers are conservative, at best.
As protestors gathered over the Castile and Sterling deaths, New Yorkers also sought answers. New York state Attorney General Eric Schneiderman said an investigation was underway. Police Commissioner Bill Bratton said the department will cooperate with the state's probe into the incident.
"We are comfortable, based on the preliminary investigation, that this was a road-rage incident," Bratton said of the Small case, according to the Daily News.
One thing is clear: Small's loved ones are far from feeling comfortable. "I appreciate all the prayers and well wishes," Albert wrote in her Facebook post. "But my heart aches for this Man and my son who will never remember his Dad and a Great dad he was to my Baby."
Read more: