Amy Schumer Responds to Ashley Graham Calling Her Out for Rejecting Plus-Size Label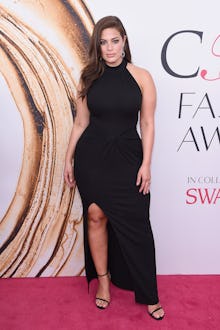 July 7, 2016, 3:30 p.m.: This story, and the story's headline, have been updated to include Amy Schumer's response. 
Body-positive crusader, sultry supermodel and cellulite-flaunter Ashley Graham revealed her first ever Cosmopolitan cover Thursday morning. 
In addition to the cover image, the publication revealed a few excerpts from Graham's interview, including a quote in which she addresses April's Amy Schumer/Glamour-gate. After being mentioned on the cover of Glamour magazine's plus-size issue, Schumer took to Instagram and Twitter to voice her disdain with being categorized plus size as a size six or eight.
"I can see both sides," Graham said in the August issue on stands July 12. "But Amy talks about being a big girl in the industry. You thrive on being a big girl, but when you're grouped in with us, you're not happy about it? That, to me, felt like a double standard." 
It only took only a few hours for Schumer to respond, tweeting, "I totally understand Ashley's feelings. I don't group myself in with her because she is unbelievably beautiful. Nothing but respect for her." 
Graham is well-known for being an outspoken advocate on matters of body positivity within the modeling industry. Within the first half of 2016, she's scored numerous covers, from Sports Illustrated to Maxim, a space traditionally reserved for one specific (read: non-curvy) body type. 
"I'm giving curvy women a seat at a table that we've never been invited to before — a table with high-end fashion people who have never considered us beautiful," Graham said.
Graham posted a photo Wednesday on Instagram of her wearing a bodysuit, writing how she had once been told her thighs were "cellulite city." "I now realize these thighs tell a story of victory and courage," she said. "I will not let others dictate what they think my body should look like for their own comfort, and neither should you."
Many are proud to see a curvier woman on the cover of Cosmopolitan, especially one that has been so vocal about body positivity, with fans commenting, "I love this! That even thick/big girls get to be on a magazine cover," and, "You continue to #slay makes me proud to be #thick."
And as one user wrote, "This is everything to me because this is the magazine I read growing up and never did I find anyone I could relate to." 
The Amy Schumer/Ashley Graham conversation seems to still be heated, but for Graham, what's next? Vogue? Keep on slayin'. 
Read more: