Jeronimo Yanez Identified as Minnesota Officer Who Shot Philando Castile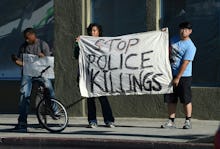 The officer who on Wednesday fatally shot Philando Castile, a school cafeteria worker, near St. Paul, Minnesota, has been named as St. Anthony Police Officer Jeronimo Yanez. 
Yanez is a four-year veteran of the force, the Minnesota Department of Public Safety announced in a press release Thursday night.
Yanez, with a second officer officials identified as Joseph Kauser, pulled over Castile in Falcon Heights just after 9 p.m. Wednesday. Authorities said Yanez approached Castile, who was on the driver's side, and fired multiple shots at him. Castile was pronounced dead at an area hospital.
Yanez and Kauser were interviewed by authorities, but officials did not release details about what led to the shooting. A handgun was recovered from the scene, officials said.
Castile's fiancée, Diamond Reynolds, took video of the incident that showed Castile slumped over in the driver's seat with a blood-drenched shirt. Yanez can be seen in the video still pointing his gun at Castile and barking at Reynolds to keep her hands in view. Reynolds and her young daughter, who was seated in the back of the vehicle, were not injured, according to the release.
Yanez and Kauser, who is also a four-year veteran of the St. Anthony police force, were placed on administrative leave from duty, officials said.
Castile was the 115th known black man killed by police in the U.S. in 2016, according to a tally kept by the Washington Post. His death, along with the police-involved deaths of black men in Louisiana and New York City this week, spurred protests nationwide Thursday evening.
Correction: July 8, 2016
Read more: