The Most Eco-Friendly Fashion Brands Have Been Revealed — See Who Made the List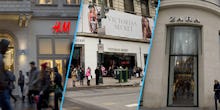 In addition to being "too sexy" and nowhere near as inclusive as it could be, Victoria's Secret is also reportedly ignoring a commitment it took towards the environment. 
Over the past five years, as a part of Greenpeace's "Detox My Fashion" campaign, the lingerie brand, along with popular fashion companies ranging from Adidas to Burberry, have pledged to go eco-friendly by safely removing toxic wastes by 2020 (as opposed to dumping hazardous materials into waterways), and ceasing the use of these chemicals within their supply chains. 
On Tuesday, the global organization released a report in which it evaluated 19 of these companies on how well they've been implementing practices to do so by the deadline approaching in four years. 
While H&M and Zara have been successfully cleaning up their companies, Victoria's Secret and Nike have some catching up to do. 
The Good
Zara
The Europe-based company has been transparent with its suppliers and has investigated its use of hazardous chemicals. 
H&M
H&M has a hazard screening method and was the first brand to eliminate poly fluorinated chemicals from its products. 
Benetton 
This Italian brand has committed to eliminate PFC's and has been transparent about its waste releases. 
The Not-So-Bad
Greenpeace announced 12 brands that are making some progress but need to move faster in order to be toxic-free by 2020. These brands include popular European companies C&A, G-Star, Mango, Miroglio, Primark and M&S. 
Other brands that also need to continue to increase momentum include UNIQLO, Valentino, Adidas, Burberry, Levis and Puma. 
The Ugly
Espirit
Greenpeace explains that the brand has "backtracked on its commitment to publish data on hazardous chemicals discharges." 
Limited Brands/Victoria's Secret
Greenpeace wants the brand to "take individual responsibility for Detoxing its supply chain.
Li-Ning
The organization is asking the China-based athletic brand to fully commit to eliminating PFC's. 
Nike
The athletic company is the last brand on the list and has been dubbed a complete failure by Greenpeace. Nike hasn't eliminated 100% of its PFCs and isn't transparent about its suppliers. 
Kirsten Brodde, the project's leader, explained in a blog post that she's heard excuses from companies ranging from, "It's not feasible what Greenpeace wants us to do," to "No global fashion company can make their supply chains fully transparent and ban all toxic chemicals from all steps of production." 
It's evident when looking at how successful top clothing brands H&M and Zara have been in leading a charge for eco-friendly fashion brands, that it is indeed possible to "detox" a supply chain with a bit of effort. In addition to this pledge, H&M also asks customers to recycle their clothing in-store and says it has been a proponent for sustainable fashion. 
The "Detox My Fashion" campaign has already generated change and as Greenpeace writes on its website, "Fashion brands, in particular, can play an important role in transforming the sector because of the influence they have on suppliers and trends." 
Read more: