Black Lawmakers React to Dallas Shootings, Philando Castile and Alton Sterling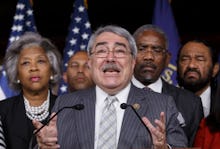 After the fatal shootings of five police officers in Dallas on Thursday night, as well as police-involved deaths of black men in Louisiana and Minnesota this week, the Congressional Black Caucus sprung into action Friday. Members of the CBC, a committee of House and Senate members, said the fatal shootings should increase urgency around gun control and policing reform legislation that recently stalled in Congress.
"The Congressional Black Caucus is frustrated. You want to say we're mad? We're mad," the group's chairman, Rep. G.K. Butterfield (D-N.C.), said in a press conference, vowing to pursue sweeping measures. "We ain't gonna let nobody turn us around."
CBC members have unanimously endorsed the Law Enforcement Trust and Integrity Act and the End Racial Profiling Act, bills aimed at addressing the policing concerns expressed by black community activists for decades. 
The Caucus' call for policing and criminal justice reforms may intensify in the wake of two police-involved shootings of two black men: Alton Sterling, who was shot and killed Tuesday outside a convenience store in Baton Rouge, Louisiana; and Philando Castile, who was shot and killed Wednesday during a traffic stop near St. Paul, Minnesota. Both men were the subjects of protests seen in large cities nationwide Thursday night.
Micah Johnson, the now-deceased Texas man identified by law enforcement as the Dallas shooter suspect, said he was angered by the Black Lives Matter movement, according to officials Friday morning. But Butterfield turned down a reporter's suggestion that the events in Dallas should change CBC members' feelings about the group.
"We have to be intelligent enough to separate the issues that we are confronting today," he said. "This does not discount our support for law enforcement across the country."
President Barack Obama addressed the Castile and Sterling shootings in a speech Thursday evening, just hours before the Dallas shooting began. After urging elected officials and members of the public not to politicize the Louisiana and Minnesota shootings, Obama spoke to the need for reforms that address "disparities in how African-Americans and Latinos may be treated" by police.
In his speech, the president cited several well-known statistics about those disparities:
According to various studies — not just one, but a wide range of studies that have been carried out over a number of years — African-Americans are 30% more likely than whites to be pulled over. After being pulled over, African-Americans and Hispanics are three times more likely to be searched. Last year, African-Americans were shot by police at more than twice the rate of whites. African-Americans are arrested at twice the rate of whites. African-American defendants are 75% more likely to be charged with offenses carrying mandatory minimums. They receive sentences that are almost 10% longer than comparable whites arrested for the same crime. 
On Friday, Butterfield renewed the push for reforms, at least on the part of CBC members. "If we fail to act, this will be a long hot summer," he said.
Read more: