Everything We Know About Micah Johnson, the Dallas Police Shooting Suspect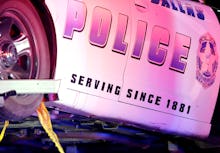 Texas law enforcement officials on Friday identified 25-year-old Micah Johnson as the suspect in Thursday night's shooting in Dallas that left at least five officer dead and several others wounded, the Associated Press reported. Johnson was killed in a standoff with police Thursday night.
While there were few other details about his life or criminal background, police officials released several clues about his intent to target police officers. The shooting occurred following a reportedly peaceful Black Lives Matter rally held in response to recent shooting deaths of black men by police in Louisiana and Minnesota. 
An unnamed official told the Los Angeles Times that Johnson "had no known criminal history or ties to terror groups."
Here's what else we know about Johnson:
He has a military service record.
CNN's Ram Ramgopal cited two Department of Defense officials who said Johnson had been trained in the U.S. Army reserves as a carpenter and masonry specialist. The Associated Press cites an Army official who indicated that Johnson served overseas.
Photos on Facebook appear to show Johnson in his military uniform.
A Facebook page belonging to Delphene Johnson, found by Mic, found photographs of her "first born Micah." Authorities said an SUV registered in Delphene's name was found at the scene of the Dallas shooting.
Johnson told tactical officers he was upset by Black Lives Matter.
The movement focuses on institutional injustice and police violence against African-Americans sprung up amid grassroots activism in 2013, and has become an influential and politically divisive protest group in the U.S. 
Following the 2014 police-involved deaths of Michael Brown in Ferguson, Missouri, and Eric Garner in Staten Island, New York, Black Lives Matter activists were accused of inspiring hatred of law enforcement.
Prominent voices in the movement have condemned Thursday night's deadly shootings and violence against police generally.
Johnson told officers that he was upset about police shootings in Louisiana and Minnesota.
Just before the Dallas shooting, community members had been protesting in response to the police-involved deaths of black men this week. Alton Sterling, who was shot and killed outside a convenience store in Baton Rouge, Louisiana, and Philando Castile, who was shot and killed during a traffic stop in Falcon Heights, Minnesota, were the subjects of protests seen in large cities nationwide Thursday night.
Gut-wrenching video of those incidents have been circulated by news media and through social networks.
Johnson did not link himself to any particular political group.
But there was a political motivation to Thursday night's carnage, according to Dallas police chief David Brown. Johnson expressed anger toward white people and said he wanted to kill white police officers.
Johnson was reclusive, said a neighbor.
Wayne Bynoe told CNN that Johnson, who lived with his mother in the Dallas suburb of Mesquite, "keeps to himself."
Johnson's home was heavily armed
Dallas police say they found bomb-making materials, ballistics vests, rifles, ammunition and a journal full of combat tactics during a search of the residence, according to the Associated Press.
July 8, 2016, 5:40 p.m.: This story has been updated.
Read more: