Looking for Eco-Friendly, Ethical Clothing? Check Out These 10 Companies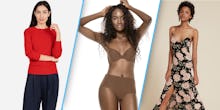 Beyoncé nearly broke the internet when her athletic clothing line went on sale in April, as the Bey Hive couldn't wait to get its hands on one of the signature black leotards. But with this excitement came a slew of critiques when an accusation was made that said Ivy Park clothing is made in sweatshops. 
Many flocked to the internet asking questions like "Are there any orgs that monitor sweatshops and can tell us what companies don't use sweatshop labor?"After all, it's been reported that popular brands like Zara, H&M and American Eagle use international factories. (And there are many, many more: In 2014, 97% of clothing sold in the U.S. was imported.)
As Mic has previously explained, the factories that many of these brands — the ones that choose to go the fast fashion route to produce clothing because it costs less — often employ women because they are "more docile and, therefore, willing to work longer hours for less pay, without organizing or trying to change their conditions."
"There is a major lack of transparency in the fashion industry."
"There is a major lack of transparency in the fashion industry, and a huge disconnect between the corporations whose brand name is on the tag and the real people who make the products," Sarah Culler, the Seattle branch manager at Fair Trade Winds, a store that sells only ethical items, said in an interview. "When companies don't know where their products are made, who is making them, and under what conditions (or they turn a blind eye), they can't make sure human rights and the environment are respected."
Being an ethical shopper isn't easy, but for those looking to make a difference, Mic decided to round up some of the best brands working to create sustainable, sweatshop-free fashion. 
Naja
This lingerie brand, which recently launched a Nude for All collection, employs single mothers and leaders of households who are paid "above market wages" and receive benefits, in addition to their children being supplied with tools needed for school and uniforms. Furthermore, the company uses eco-friendly processes and often uses fabrics made of recycled materials. 
"Naja started with a vision to empower women, but how could we claim to empower women, if we aren't empowering the women who make our products," Catalina Girard, the brand's founder, said in an interview. "For this reason, Naja controls our supply chain from end to end ... We wouldn't feel right about doing things in any other way"
Everlane
This clothing company, which sells all sorts of wardrobe staples, is extremely transparent about production and the cost of its items. On the Everlane website, you can learn all about the factories and their locations as well as how much the brand has marked up a product. 
White Rabbit
White Rabbit uses bamboo fabric for its undies and a family-owned "manufacturing partner" in Mexico that only employs women and pays fair wages. 
"We chose to focus first on Mexico because the inequality gap is still so large, particularly in rural communities," Mariana Hernandez, the brand's designer, said in an interview about where the underwear is made. "At White Rabbit we strive to to create products that make us feel good and comfortable when we wear them, but that also make us feel good about what we're contributing to the community and environment." 
Beru Kids
Like Naja and White Rabbit, Beru Kids partners with factories that employ women, all of which are located in downtown Los Angeles. The products are made from organic or deadstock materials.
"Going sweatshop-free was never NOT an option for us,"  Sofia Melograno, the company's founder, said in an interview. "There was no way I could justify turning a profit at the expense of other people and the environment ... We produce in small batches so as to not create any unnecessary waste and know our factories and the makers well. We call it slow fashion." 
Eileen Fisher
The clothing brand uses eco-friendly technology when it comes to its chemical, water and energy usage. They use recycled and organic fibers and are working on cutting waste. In terms of factories, the company checks on its factories using SA8000's labor standards. 
Freedom of Animals
This New York-based accessories brand is cruelty free. It uses organic materials, sustainable fabrics and recycled metals, and all products are made within the United States. 
Reformation
This Los Angeles-based clothing company makes most of its items in its own factory in downtown Los Angeles. Everything else is made by "responsible" partners in the U.S. and abroad. Many garments are created from recycled materials and consumers can even see the impact of each item on its website. 
Matt and Nat
The vegan accessories brand uses renewable and recyclable materials like cork and rubber. The team also makes sure its factories are following the SA8000 standard. 
Vitamin A
You can have ethical clothing, accessories and, now, swimsuits. Celebrity favorite Vitamin A is now using fabrics produced in California, recycled nylon and factories that conserve energy and water. It also makes an effort to know who is producing all fabrics and crafting its swimwear. 
Amour Vert
All Amour Vert pieces are fabricated out of factories within 20 miles of its headquarters. Any other products are sourced from friends or trusted products. The brand also has a "zero-waste" policy as it uses non-toxic designs and custom fabrics made of recycled materials. 
Want to help? Liana Foxvog, the director of organizing and communications at the International Labor Rights Forum, emphasized the importance of activism in an interview. 
"Our real power lies in activism."
"[Brands are] prioritizing profits over people, and they haven't been incentivized or pressured enough to change their ways," she said. "Apart from examining our own consumerism, our real power lies in activism: Whether supporting campaigns demanding corporate accountability or working to ensure that our local institutions are requiring transparency and respect for workers' rights in their procurement." 
As the common ethical saying goes, "Fast fashion isn't free. Someone somewhere is paying." Regardless of whether you choose to shop at the above stores or not, it's important to remember who often is behind the cheaply-made fabric that's nicely folded in a store's windows. 
Read more: