Ebonee Davis Pens Powerful Letter to the Fashion Industry to Call Out "Systemic Racism"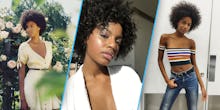 Model Ebonee Davis was filled with pride when she saw a photo of her new Fall 2016 campaign ad for Calvin Klein.
Besides starring alongside celebrities Frank Ocean and Margot Robbie, Davis said her nostrils, lips and hair were showed in all of their "natural glory" at a time when systematic racism is rampant in the modeling industry and beyond. 
"I heard once, that the industry only wants a black girl if she looks like she'd been 'plucked from a remote village in Africa,' or looks like a white model dipped in chocolate," Davis explained in a blog post titled "Time For Change: An Open Letter to the Fashion Industry Concerning Police Brutality." 
Davis was happy to see her curls in the ad, too. During the first few years of her career, she hid behind straight weaves and extensions, believing that was how she had to look within the modeling industry.
But beyond her excitement about the campaign, she also saw a connection between the racism she had experienced in the industry with the deaths of Alton Sterling and Philando Castile.
"It dawned on me that the problems facing the fashion industry and the problem of police brutality are two branches of the same tree," she wrote. "Varying in severity, no doubt! But nonetheless stemming from the same root, systemic racism. Embedded deeply within American soil and fertilized by American policies, bearing the fruits of inequity." 
"Are models of color unworthy of the same treatment as their peers?"
In terms of the fashion industry, Davis mentioned the lack of models of color on the runway, makeup artists' lack of knowledge when it comes to shade matching and natural hair and how "black" hair products are on a separate aisle — all of which are widely reported upon issues of the fashion and beauty industry. 
"Are models of color unworthy of the same treatment as their peers?" she asked. "These are consequences of systemic racism, not unlike the shooting deaths of black men by police. Similarly and with even greater frequency, we've experienced an uproar of outcry in regard to the shooting deaths of black men carried out by police officers."
Davis chose to write a letter because of the influence that many in the fashion industry have — and can have — on society.  
"As artists, we are the embodiment of free speech," she wrote. "Fashion makes people's minds up about what is beautiful and acceptable."
She continued: "We must [band] together to neutralize the phobias surrounding black culture. Stop vilifying people of color and produce positive, accurate and inclusive imagery rather than perpetuating trite stereotypes. Until then, inequity and injustice will continue. Thus, society will continue to buy into the false notion that people of color are less than — a concept already deeply embedded in our country's collective psyche, and reinforced again and again through depictions in media."
Many have taken to Instagram to voice their support for Davis' letter writing things like "So inspiring, your voice as an influencer is so strong and so important. You truly are a great role model," and "I thank you for your words and for not standing idly by as things get worse, but instead, taking a stand for what is right." 
There have been some companies and publications within the fashion and beauty industry working to combat the lack of inclusion. The more recent spring campaigns were the most racially diverse on record, with 21.8% of models cast in campaigns being models of color. On top of this, magazines like Teen Vogue and Elle have been surprisingly diverse this year and many beauty brands have launched more inclusive products and apps. 
But even so, the fashion and beauty industry is still prominently white, and as Davis says, "The time for change is now." 
Read more: