Want to Look Like Kylie Jenner? You Can — Just Add 18 Steps to Your Makeup Routine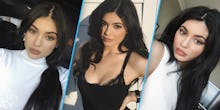 Deep breaths: There is no such thing as rolling out of bed 20 minutes before leaving the house in Kylie Jenner's world. If you're able to accept that, the 18-year-old chronicled her entire makeup routine on her Snapchat Sunday evening. 
If you missed the story and/or are not interested in watching it, here are all 18 steps. And, yes, it is as difficult as it looks. 
1. First she mixes Make Up For Ever Ultra HD Foundation with Urban Decay's Complexion Perfector.
2. Then pencils and brushes her eyebrows with Anastasia Beverly Hills Brow Wiz. 
3. And brushes a bit of creme concealer (she uses this one) below her brow line. 
4. Next is setting powder on top of the concealer. As Jenner says, "Set that bitch."
5. Although she shows how she puts on her eyeshadow with four videos, it was the only product she didn't reveal the color, shade or brand for. (Maybe it's a new Kylie Cosmetics product?) 
6. Jenner then applies NARS concealer under her eyes, to her nose and forehead and blended away.
7. Next, she wets her BeautyBlender and bakes her face a bit before applying more setting powder on top. 
8. She then brushes on even more foundation. 
9. Next up is the bronzer. 
10. Once the bronzer is on, it's time to go back to the brows. This time brushing on brow gel. 
11. And then some blush. 
12. Then she curls her lashes. "Scares me every time," she wrote. 
14. She didn't reveal which, but Jenner applies brown mascara to her bottom lashes. 
15. She also applies a "soft color" liner to her waterline. 
16. It wouldn't be a Jenner tutorial without a little self promotion. She used a Kylie Cosmetics liner on her lips. 
17. And a new Kylie Cosmetics gloss.
18. Lastly, she tossed on highlighter. 
And this is the end result:
It might take a little less time to do if you aren't Snapchatting throughout, but either way, it'll cost you a hefty $454.50 in addition to the price of the brown mascara, lash curler and eyeshadow. No wonder Jenner spent $1,200 on her last trip to Sephora. 
This Twitter user just about sums this all up: 
Read more: