'Big Brother 18': Frank Eudy Dragged on Twitter for Slut Shaming and Sexual Harassment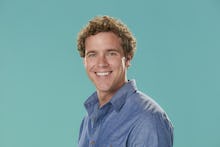 It happened with Corey. And then again with Bronte. Big Brother 18's houseguests can't seem to remember — or at least care — that there are 87 HD cameras on them at all times. The latest victim of the 24-hour feeds: returning houseguest Frank Eudy. 
Eudy, a 32-year-old medical sales rep who originally competed on season 14, didn't get the best edit on Sunday night's episode. But many Big Brother fans — especially those that follow the live feeds — were happy about this, as Frank's uncomfortable comments and actions were finally aired for all that watch to see. 
For example, on Tuesday, the feed caught Frank explaining that he has a "15-pound rule" with his girlfriend. 
He also supposedly slapped Zakiyah's tummy and said she was "getting chubby." 
Monday, he was seen looking at Natalie's nipples through her shirt and telling her, "Your nipples are disgusting." 
Those comments stayed on the feeds, but on the CBS broadcast, Frank made a comment about Nicole's mustache. He also poked Michelle's tummy, calling her "fatty" and said she needed to go on the slop diet.
He then called Da'Vonne a slut and Zakiyah a hussy and hit numerous of the ladies in the house's butts.
Da'Vonne was brought to tears after being butt slapped and told to "shut her damn mouth." In the Diary Room, she said, "I don't want my daughter to see that and think it's okay for guys to hit girls on their butts and guys to call girls sluts."
Although he is claiming to be just a "kid at heart" and having a little fun, as Nicole said, "sometimes his jokes go a little too far." And many on Twitter are calling for his eviction.
Fans and Frank haters alike will have to tune in to the next episode of Big Brother, airing Wednesday at 8 p.m. Eastern, to see if Frank continues to tell his "jokes" around the house. 
Read more: