This Beauty Brand Casts Male Models for Its New Campaign — And It's Gorgeous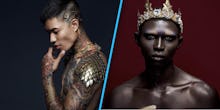 In March, Mic asked the question, "Is men in beauty ads the next step for the makeup industry?" 
Over the last week, Kylie Jenner-approved company Anastasia Beverly Hills answered this inquiry with a big "Yes!" by enlisting a diverse range of men to model its new metallic highlighter-filled Glow Kit — and the results are stunning. 
"I wanted the campaign imagery to mimic what the palette represents, which is about being different and creative," Claudia Soare, Anastasia Beverly Hills' president, told Refinery29. "There are many misconceptions surrounding men wearing makeup, and these images show that men can look feminine while still portraying their masculinity." 
She isn't wrong. "For some odd reason, our society has taught us to assume traits of a whole gender,"  Arieh Simon, a male makeup blogger with over 54,000 followers on Instagram, told Mic back in March. "A large part of men in makeup isn't just about enjoying putting it on, it's about destroying stereotypes." 
As of late, an assortment of popular beauty brands from Maybelline to MAC have been collaborating and featuring men on their Instagram pages. Anastasia Beverly Hills is joining companies Milk, MAKE and Benefit, all of which have used men in ads previously. 
"It's a huge, huge, huge deal," Spencer Claus, a 16-year-old aspiring makeup artist who recently went viral for creating matching beauty looks with his father, said in an interview. "For a long time men were relegated to only the cologne advertisements, or maybe as some secondary figure to a woman in a cosmetics ad. There are so many different types of men in makeup, just like there are so many different types of women in makeup, and to give recognition and visibility to men and men of color in their ads is awesomely important and very heartening to see."
"There are so many different types of men in makeup, just like there are so many different types of women in makeup."
Customers also seem to appreciate the gesture, as the photos posted to Instagram have received thousands of comments ranging from, "Probably the most beautiful thing I've ever seen," and, "She's making a point and I'm loving it," to, "Makeup is genderless," and, "Finally Anastasia is using male models for makeup." 
This also might be since, as users on Reddit pointed out, this beauty brand is not presenting the ads or the idea of men using makeup as a "novelty."
"It's normalizing men wearing makeup instead of being like LOOK, AREN'T WE PROGRESSIVE," user Wildwolfe wrote on Reddit.
"The makeup isn't even traditionally feminine looking. It's using makeup to highlight desirable features or accent the face. ... It's just regular makeup on dudes," Reddit user dezeiram wrote.
It makes sense that this company chose these models for this campaign, as Reddit user ohgooser commented, "What better way to advertise highlighter than on some sharp cheek bones like these."
Read more: