Yoga Teacher Delivers the Final Word on Saying Plus-Size Women Are "Unhealthy"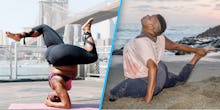 Having a "normal" body mass index doesn't necessarily mean you're healthy, just like being plus size doesn't automatically mean you're unhealthy. 
But this doesn't stop people from fat shaming others on the internet. Take the recent hashtag #EverySizeIsBeautiful, for example, that began trending last week. While intended to fire up a mini-positivity movement on Twitter, many used it as an opportunity to state what they believe to be healthy or not. 
So, Jessamyn Stanley, a yoga teacher and body-positive advocate with over 190,000 Instagram followers, is here to demolish these stereotypes because, well, she doesn't want to diet — and doesn't need to. 
"Basically, I'm the unicorn of health," Stanley told Runway Riot, a website for all sizes managed by curvy model Iskra Lawrence. "A healthy fat person is an oxymoron to most people. People don't realize that they can't tell anything about someone else's health by just looking at them.
"We focus a lot on the outside. For so long, we've been fed this idea that how slender you are of a person lets people know how fit you are."
And Stanley's not the only influencer discussing this. In February, after former Sports Illustrated model Cheryl Tiegs said she didn't think putting Ashley Graham on the cover of the publication was "healthy," Graham clapped back at critics saying, "It's simply untrue to say that someone is unhealthy just because they are curvy. Everyone has their own healthy, natural weight and size." 
"It's simply untrue to say that someone is unhealthy just because they are curvy."
Stanley, like Graham, has long been a proponent of the "love your body" movement. Just last week she posted a photo of her "back rolls," explaining that having a fat ass is "not a bad thing," causing many to comment things like "Your influence has helped me to find my own bravery. Thanks for not hiding yourself," and "I'm not big, I'm just my size, and I love that you are your size too!" 
Bottom line? She can be just as healthy or fit as someone who is a size four — even with a booty. "Middle fingers in the air, fat bodies out and proud — that is how I am living my life," she wrote on Instagram. 
Read more: