In Wake of Shootings, North Carolina Just Made It Easier for Police to Hide Camera Footage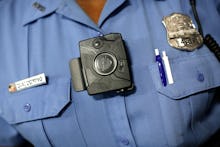 Pat McCrory is on a roll: In March, the Republican governor of North Carolina passed the country's most controversial legislation, the widely-panned anti-transgender bill that mandates trans people use public bathrooms corresponding with their gender assigned at birth.
Now, McCrory and lawmakers in the Republican-controlled state legislature have made it easier for police to conceal police-captured camera footage from the public. 
The new rules around police body cameras and dashboard cameras puts police chiefs and sheriffs in charge of deciding whether the public may access recorded videos, among other regulations. As he signed the legislation Monday, McCrory heralded the rules as a "necessary balance" between protecting law enforcement and maintaining transparency.
"We have been trying evaluate how we can deal with technology. How can it help us, and how can we work with it so it doesn't also work against our police officers and public safety officials?" McCrory said in a press conference, according to a WRAL-TV report.
In the wake of police shootings of black men in Louisiana and Minnesota, North Carolina's move has angered the civil rights community. The deaths of Alton Sterling in Baton Rouge, Louisiana, and Philando Castile in Falcon Heights, Minnesota, last week, were filmed on bystander cell phone video. Sterling's death may have also been captured on police body cameras, which reportedly became dislodged during the scuffle.
North Carolina's law now treats all video — those captured through body devices, dashboards and other public surveillance methods — as the same. Previously, the law made only body camera footage a part of an officer's personnel record, which was nearly impossible for the public to access through a request via the Freedom of Information Act. With these new reforms, all police-related videos will be more difficult to access.
WRAL-TV further explains the new law:
Viewing a police video will be restricted to only those members of the public who are captured in the video, and then only with the police chief's or sheriff's agreement. The citizen and his or her attorney or other representative could view it but could not copy or photograph it. The law enforcement agency and the local district attorney would also have access to the video. 
A state judge can allow other parties to view the video, as long as the footage is not considered highly personal or does not present a risk to public safety, the new law states. With body cameras being used as a tool to inspire trust between police and citizens. American Civil Liberties Union has called BS on the governor's claims that the bill does not hurt transparency and accountability for law enforcement agencies.
"People who are filmed by police body cameras should not have to spend time and money to go to court in order to see that footage," Susanna Birdsong, policy counsel for the ACLU of North Carolina, said in a statement released Monday. "These barriers are significant and we expect them to drastically reduce any potential this technology had to make law enforcement more accountable to community members."
The existence of police-captured video has been a sticking point in a number of police shooting cases in the last several years. In Minnesota, local Black Lives Matter activists sought police-captured video that they believed shows Jamar Clark was handcuffed and posed no threat to the officers who shot him last November. State and federal prosecutors have declined to prosecute the officers.
Police in Chicago withheld video of the officer-involved shooting death of Laquan McDonald for more than a year, while officers claimed the black teenager charged them with a knife in October 2014. More than a year later, a judge ordered the release of video, which showed McDonald was walking away from police when an officer fired 16 shots at him, prompting local authorities to charge the officer who opened fire.
After signing the legislation, McCrory struck a tone of hopefulness over the nationwide reactions to Castile and Sterling's deaths: "Sadly, our country and state have been through these types of situations before. We've learned from them, we've recovered from them and we've united after them."
Read more: