Alicia Keys and 24 Other Celebs Tell You What Gets You Killed If You're Black in America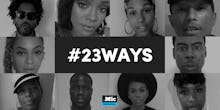 In an exclusive video for Mic, Alicia Keys, Rihanna, Common, Chris Rock, Taraji P. Henson and others describe the mundane actions that cost black Americans their lives. Watch below:
Philando Castile was not a martyr. He was an ordinary 32-year-old black man who fed children for a living and hoped to make it home after work on Wednesday. He didn't.
That's what I kept thinking last Thursday when I woke up and logged onto Facebook, where a Facebook Live video showing Castile dying in the driver's seat of a car had started going viral. Castile was with his girlfriend, Diamond Reynolds, and her 4-year-old daughter when Minnesota police officers stopped them.
According to Reynolds' gripping, livestreamed account, Castile told the officer, later identified as Jeronimo Yanez, that he was a licensed gun owner and had a firearm in the car. Then Castile reached for his wallet. The officer — out of fear, confusion, nerves — pumped four shots into him. That's when Reynolds' began filming. Castile later died in the emergency room.
There is a tax on black life in America, and we are better than this.
What struck me most about Castile's death was not the spectacle of it. It was not the bright red blood staining his white t-shirt. It was not Reynolds' frantic shouting that Castile had done nothing wrong. It was not even Reynolds' daughter sitting with her handcuffed mother in the back of a police car, assuring her that everything would be alright.
What struck me was that this was just the beginning. Castile's name would become a hashtag. His image would appear on posters. His story would be picked apart, his family paraded in front of cameras. His loved ones would be forced to make the case in public that Castile should not have been murdered.
I decided to compile a list of all the seemingly mundane interactions with police that have led to high-profile black deaths. I did this to prove a point: There is a tax on black life in America, and we are better than this.
On Monday, Alicia Keys organized dozens of America's highest profile celebrities to make a powerful statement about black lives and to speak out against the unacceptable normalcy of police brutality. In an original video for Mic based on the piece, "23 Everyday Actions Punishable by Death if You're Black in America," Keys, along with Beyoncé, Rihanna, Common, Chris Rock, Taraji P. Henson and so many more each describe a mundane, everyday action that can get you killed if you happen to wake up black in America.
Beyoncé and Kendrick Lamar created a soundtrack for black liberation in our time. It's beautiful. It's powerful. It's proof that the ordinary is not impossible. That our lives are worth celebrating. That our deaths are worth mourning. That we are better than our worst moments.
It's moving to see that celebrities have taken charge of telling this story. What we're seeing now are black entertainers — singers, actors, athletes and artists who are deeply in tune with what's happening in the United States — speaking out, taking action.
Too often, the ordinary seems impossible for black folks in America. Violence follows everywhere — driving down the street, or selling CDs, or playing in a park, or sleeping on our grandmothers' sofa. We become suspects in our own deaths, tried and executed by those sworn and paid to protect us.
We must tell the world that our lives matter no matter how controversial that point has become.
Read more: