Joe Budden Shares Powerful Protest Song "Freedom Freestyle," Fresh Off His Drake Beef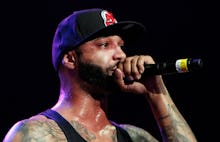 It's been a painful July. The police shootings of Alton Sterling and Philando Castile and continued violence have sparked a resurgence of conversation around the Black Lives Matter movement, which has in turn drawn a wave of responses from musicians offering protest and healing. The movement seems to have surpassed the internet's interest in rap beefs and Twitter wars — so much so that even Joe Budden has put his beef with Drake aside to speak to the national discourse. 
The rapper effectively ended his ongoing campaign to teach his apparent rival about the competitive spirit of hip-hop, releasing a new protest anthem and video titled "Freedom Freestyle." He flows over a rendition of Beyoncé's "Freedom" featuring Kendrick Lamar, splicing viral videos of officers' deadly interactions with Eric Garner, Alton Sterling and Philando Castile for the video. Iconic images of the civil rights movement, its leaders and marches are interspersed throughout the YouTube video. 
The song opens with Jesse Williams' BET awards speech in which he discussed the Black Lives Matter movement, and the need for police departments to have a hard look at the way they confront black men and women in comparison to whites. 
"I was told there was once a world where slaves communicated with each other via music, and tho I wasn't present for that, the hip-hop I fell in love with always encouraged me to do the same (Thank you Public Enemy)," Budden wrote in a caption for the music video. 
"Let this act as an unfortunate reminder that times change and they don't. #BlackLivesMatter #YallLivesMatter #OurLivesMatter," he continued. "I'm afraid to wonder what happens when we as a ppl decide to stop saying it. Some deem us threatening now by sheer design. We are not. We are loving, passionate, cultured and proud, even during unrest. However, with every life viciously and maliciously taken by costumed evil, we grow more and more afraid. What will occur when too many of us are afraid? #IfYouDontValueMyLifeEYEWill #GodHelpUsAll #TheMissionIsGreat."
Read more: