Ta-Nehisi Coates Speaks Hard Truths of Dallas Shooting and Race Relations in the US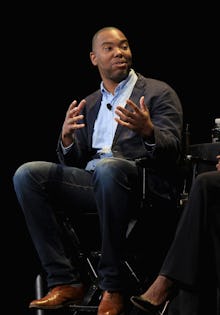 Americans should have seen the Dallas shooting coming, acclaimed African-American writer Ta-Nehisi Coates said in an interview with WNYC's Brian Lehrer of an attack that left five officers dead last week.
A lone gunman launched an all-out assault on Dallas police officers who monitored a reportedly peaceful, locally organized Black Lives Matter rally on Thursday. Police officials said the now-deceased gunman told them he was angry about Black Lives Matter and wanted to kill white officers as retribution for police shootings of black men in Louisiana and Minnesota earlier that week.
Some of the reaction to the shooting in the media focused on so-called irreparable schism between Black Lives Matter activists and law enforcement. Coates placed his attention on the burdens police intervention can pose on black American life.
Since the 2015 release of Coates' award-winning bestseller about race and police violence, Between the World and Me, activists and media alike have come to rely on the 40-year-old Baltimore native for the sobering context he delivers on the issues of the day. As a contributor to the Atlantic, Coates regularly weighs in.
But following last week's police-involved shooting deaths of Alton Sterling in Baton Rouge, Louisiana, and Philando Castile in Falcon Heights, Minnesota, Coates said he had nothing to add. On Twitter, he recirculated an essay he penned in April 2015 about the "myth of police reform" as the solution to underlying societal problems.
Here's an excerpt from Coates' piece:
Peel back the layers of most of the recent police shootings that have captured attention and you will find a broad societal problem that we have looked at, thrown our hands up and said to the criminal justice system, "You deal with this."
A full recording of Coates' appearance on WNYC's Brian Lehrer Show can be found here.
Read more: