The 6 Best First Date Ideas For Geeks, Bookworms and Harry Potter Buffs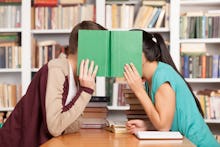 Bookworms make the best lovers. They're cultured and keen on communication, yet they're also comfortable spending time by themselves. And if you're looking to impress a date, showing off some literary street cred is guaranteed to boost your sex appeal. 
A study by Match.com found men who mention Shakespeare in their profiles are 27% more likely to get responses from women, while a similar survey by the matchmaking service EliteSingles found two thirds of respondents think being an "avid reader" is sexy as hell. 
There are tons of cheap date activities for literature buffs that show more personality and creativity than the classic dinner and a movie scenario. 
If you've got a crush on an avid reader, here are some affordable ways to capture their heart. 
1. Visit a cute bookstore and compare your favorite books.
Whether you live in a small town or a big city, browsing a quirky bookstore is always a good idea for a date. You can compare your favorite stories, hunt for obscure authors and hilarious titles on niche topics or simply enjoy perusing aimlessly while chatting. If you live near a famous venue, like Strand in New York City, then Google the store's history and look for works by the store's most famous patrons. For example, City Lights in San Francisco is known for having famous Beat Generation poets Jack Kerouac and Allen Ginsberg as its best customers. 
2. Go on a literary pub crawl.
Across the country, there are dozens of bars and restaurants with venerable literary histories. For example, the American Library Association deemed the Carousel Bar in the French Quarter of New Orleans a national landmark thanks to its popularity with historic writers like Tennessee Williams, William Faulkner, Ernest Hemingway and Truman Capote. Make a toast to the geniuses that got sloshed at the same place decades ago. 
New York City is full of intellectual hubs with plenty of booze like the Algonquin Round Table, once frequented by writer Dorothy Parker, and the White Horse Tavern, with a long history of brainy patrons including Anais Nin and Frank O'Hara.
3. Visit a quirky museum.
America boasts some of the world's most beautiful homes of famous authors. Hemingway's old pad in Key West, Florida, is surrounded by lush gardens, which also happen to be home to dozens of snuggly cats with six toes. 
In addition to being a gorgeous place to stroll, many of them also offer themed tours and host free performances, like concerts and stand-up comedy. The Emily Dickinson Museum in Amherst, Massachusetts, has an annual poetry festival, while Mark Twain's former crib in Hartford, Connecticut hosts tons of one-of-a-kind activities, such as an historically themed murder-mystery night.
4. Check out a haunted library.
The whole country is littered with haunted libraries. Local legend in Cairo, Illinois, for instance, says a ghost named Toby haunts the special collections room on the second floor of the beautiful brick library built in 1884. 
Often, small towns and sleepy suburbs are home to the most active undead patrons. In Wilmington, North Carolina, city residents believe the New Hanover County Public Library is haunted by a ghostly woman obsessed with the spirit of a Civil War cavalry colonel. Whatever skeletons may be in your town's closet, haunted libraries are the perfect place to impress your date with spooky ghost stories full of local history. 
5. Plan a bookish scavenger hunt.
Take a cue from the success of Pokémon Go dating and plan a walking tour. From taking selfies at outdoor literary landmarks to shopping for trinkets from book-themed businesses like the Hobbit Cafe in Houston, it's fun and free to wander the city on a quest for hidden gems.
6. Geek out with a themed day trip.
We all know that California and Florida have theme parks with Harry Potter worlds that drive geeks crazy with joy. But did you know there are also tons of cheaper book-themed entertainment and movie locations just waiting to be explored? 
Both North Carolina and Georgia have tons of day-trip potential for Hunger Games fans who want to visit the locations where the films were made. Atlanta Movie Tours offers a packed three-hour adventure, while North Carolina boasts several hiking trails once traversed by Katniss herself. The town where the Twilight movies were filmed in Oregon also has tours for fans who aren't ashamed to say the vampire series made their hearts race. 
For a romantic evening at home, try a Netflix marathon with movies based on books, from Lord of the Rings to Breakfast at Tiffany's. And remember the most seductive thing you could ever say to a prospective partner is: "I read the books years before the movies came out." 
Read more: