A Decade Later, Obama's Speech on Climate Change Holds an Important Lesson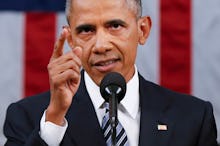 Ten years ago, then-senator Barack Obama delivered a powerful speech about climate change and the future of humanity that still holds important lessons today.
As Obama's presidential term draws to a close, there's a cloud of uncertainty around the country's climate and energy future. The U.S. is losing arguably one of the most environmentally conscious presidents it's ever had. 
Now, the future of climate change seems divided on party lines: In Obama's place, Democratic presidential candidate Hillary Clinton would continue many of his energy policies and efforts to reduce carbon emissions, while Republican presidential candidate Donald Trump, a climate change doubter, would likely take a different route. 
It didn't have to be this way.
In 2006, during a speech titled "Energy Independence and the Safety of Our Planet," Obama drilled down to the root of the problem when he said climate change shouldn't be a political issue:
In Washington, issues come and go with the political winds. And they are generally covered through that prism: Who's up and who's down? Which party benefits? Which party loses?
He went on to warn that climate change, if left unchecked, will bring about more weather-driven disasters that will affect all of us, regardless of political preferences.
"All across the world, in every kind of environment and region known to man, increasingly dangerous weather patterns and devastating storms are abruptly putting an end to the long-running debate over whether or not climate change is real," he said. "Not only is it real, it's here, and its effects are giving rise to a frighteningly new global phenomenon: the man-made natural disaster."
Indeed, there's a growing body of scientific evidence that suggests man-made climate change will mean more destructive weather patterns. 
Obama carried his activism to the White House.
There's evidence that Obama's policies on energy and climate change played a big role in getting him elected in the first place. Reports suggested his election was partly a response to the failed energy polices of former President George W. Bush. 
"Today's landslide election of Barack Obama and pro-environment candidates across the country signals a strong rejection of the failed energy policies of the last eight years and a historic mandate for large-scale, transformational change," Brent Blackwelder, president of Friends of the Earth U.S., said at the time of Obama's election, World Watch Institute reported.
While Obama didn't follow through on every promise, he did have a major impact on energy and climate change. He helped guide the United Nations members to sign the Paris climate agreement in December. Under his leadership, the Department of Energy created the ARPA-E fund, which has funneled hundreds of millions of dollars into clean energy technology, according to MIT Technology Review.
Obama knows we're running out of time.
In the speech, Obama also acknowledged there's disagreement over just how much we're contributing to climate change, but there's overwhelming evidence that we are fueling it.
"There may still be disputes about exactly how much we're contributing to the warming of the Earth's atmosphere and how much is naturally occurring, but what we can be scientifically certain of is that our continued use of fossil fuels is pushing us to a point of no return," he said. 
Many scientists have warned that we're fast approaching a dangerous tipping point that will cause irreversible damage, according to a recent report from the Intergovernmental Panel on Climate Change. 
Obama closed his speech with a message that is just as important today as it was then.
"Will we stand by while drought and famine, storms and floods overtake our planet? Or will we look back at today and say that this was the moment when we took a stand? That this was the moment when we began to turn things around?"
Read more: