Assembly New York Casts Models With Dreadlocks for Its Latest Fashion Week Show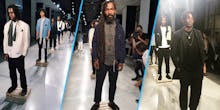 For most brands, New York Fashion Week is simply a platform to showcase their most recent collections for press and industry insiders. But for Assembly New York, it was an opportunity to make a powerful statement about black aesthetics. 
How? By casting an entire group of black men with dreadlocks for its Spring/Summer 2017 presentation on Wednesday.
And the results are stunning. 
The brand's founder, Greg Armas, told Mashable that he wanted his model's hair to reflect the clothing's designs. "Dreadlocks take time," he said. "There's no way to fake a dreadlock. Time and balance were the idea this season so we wanted to be authentic. For some of these guys it took 20 years to grow out their looks."
But above all, by selecting this group of people, some models, some not, the brand was able to celebrate diversity and black culture at a time when the conversation surrounding police brutality and Black Lives Matter is rampant in society. 
As model Ebonee Davis pointed out in an open letter to the industry, fashion has the ability to influence others and can be at the forefront of change. 
"As artists, we are the embodiment of free speech," she wrote. "Fashion makes people's minds up about what is beautiful and acceptable. We must [band] together to neutralize the phobias surrounding black culture. Stop vilifying people of color and produce positive, accurate and inclusive imagery rather than perpetuating trite stereotypes." 
Dreadlocks, specifically, are often culturally appropriated left and right by celebrities. Outside of Bob Marley posters, it is rare the hairstyle's long culture — one rooting back to Jamaica in the 1830's — is discussed. 
"We need to rethink how we integrate our culture together."
As Mic's Mathew Rodriguez explained, "Fashion trends are symbols of cultural and economic status. Adopting one without understanding its significance is more than just a faux pas — it's unexamined privilege."
It's this privilege, along with the lack of models of color on the runway and in campaign ads — models of color made up 31.9% of latest season's runway shows and 21.8% of Spring campaigns,
 — that makes presentations, like Assembly New York's, a much-needed wakeup call in a primarily white industry. 
"Unity is extremely important and we need to rethink how we integrate our culture together and unify," Armas said to Mashable. 
Read more: