Gigi Hadid Just Landed Her Very First American 'Vogue' Cover — And It's With an Olympian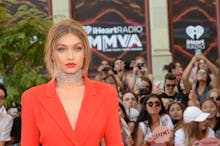 Gigi Hadid has basically been on every Vogue cover around the world. She did one for the U.K. And Germany. And France. Yet, there was one she had yet to snag, and its the edition from the country she calls home: the United States. 
Sure she had been on the pages of Vogue (who can forget her photoshoot with an ex-boy-band-er that some might know as Zayn Malik), but it wasn't until Thursday, with the reveal of its August cover, that the 21-year-old model's "ultimate dream" came true. 
Hadid shares her cover with Ashton Eaton, an Olympic decathlete, who according to Vogue, "is poised to be the face of the 2016 games in Brazil."
"I am beyond humbled," Hadid wrote on Instagram about the cover, on stands July 26. "Being an athlete has brought so much pride and joy to my life and has instilled the work ethic that still drives me every day." 
For all those going, 'wait what? Athlete?' As big Hadid fans know, when she was a teen she was a competitive horseback rider and volleyball player. "I went to Junior Olympic qualifiers for volleyball," she told Vogue in October. 
This hasn't prevented people from asking why the publication chose to put Hadid on the cover instead of another Olympian. 
Overall, her fans seem to be excited, as many have taken to Instagram to congratulate her. "You deserve this and so much more. thank you for always being there for us," one wrote. "Finally!! Been waiting for ur American Vogue Cover! U Nailed it Gi," said another. 
We'll leave you with this comment: "Why does her dress(?) reminds me of tribute outfits for the Quarter Quell in Catching Fire?" Happy Hunger Games!
Read more: