'Big Brother 18': Tiffany Calls Frank a "Dictator" in Jaw-Dropping Speech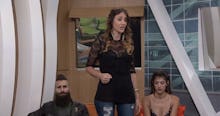 Frank Eudy and Bridgette Dunning shall now be known in the Big Brother house as The Dictator and Cabbage Patch Kid, respectively — all thanks to an absolutely wild speech made by fellow houseguest Tiffany Rousso right before Thursday night's eviction. 
For the past week, ever since Bridgette won Head of Household, Frank had been leading the house in a charge to give Tiffany the boot, despite originally being in the 8-Pack alliance with her (an alliance that unraveled rather quickly). 
Tiffany knew it. The house knew it. The viewers knew it. But right before the plan was executed, Da'Vonne led a good old-fashioned blindside effort to instead send home Bridgette's ally Bronte D'Acquisto.
Before the eviction vote, however, Tiffany delivered a speech that will go down in Big Brother history. 
Many contestants use their few minutes before the vote to plead for another week in the house. Tiffany, on the other hand, saw it as the perfect time for her to blatantly call out Frank for all he's done to try and have her sent packing.
The speech started out normally enough. "Houseguests, so as we've seen over the past few weeks, dictatorships rarely work out for the dictators in this house," she said. "And this week is no different. In fact, let's talk about the dictator this week. He was trying so hard to get me out. He was up late nights, early mornings, gotta give him an A+ effort actually." 
Then, all of a sudden, we were visiting a farm: "But there was one small flaw in his master plan to get me out, and that was the cow manure that spewed off his tongue that smelled worse than his daily gas."
Amidst her fellow houseguests' awkward giggles, she continued, "So I'm sorry, but if you want to keep me, I'm not targeting any single one of you but said dictator and his little Cabbage Patch Kid." 
We don't know what was better — Bronte's awkward facial expressions or Frank's. 
The internet didn't seem to know how to react either. Some loved it, others let out a collective "huh?" 
All that matters is that she had her sister, season 17 contestant Vanessa's, approval — plus, of course, the fact that Bronte went home. But in the process of giving her speech, she might've just placed an even bigger target on her back. 
The next episode, in which Paulie will almost certainly nominate Tiffany, airs Sunday at 8 p.m. Eastern on CBS.
Read more: