'Big Brother 18' Episode 12 Recap: Tiffany Cries to Anyone Who Will Listen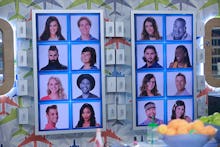 Despite her wild and memorable speech, it's mission "kick out Tiffany" part two in the Big Brother house. 
On Thursday's episode, some of the houseguests, led by Da'Vonne, executed a last minute switcheroo to send Bronte packing instead of Tiffany, who was Head of Household Bridgette and her sidekick Frank's target. 
Later on, Paulie, a member of the Category Four team, was crowned Head of Household, meaning his teammates Frank, Bridgette and Michelle are safe this week.
Fast forward to Sunday night's episode, and Tiffany tells Frank that he shouldn't have targeted her for no reason. He decided to throw Da'Vonne under the bus, as he replied that Day had told him that Tiffany was coming for him. This quickly caused Frank and Da'Vonne to go at it with Frank yelling, "I want to send you home."
Most of the old 8-Pack was discussing how they should've just sent Tiffany home last week when they had the opportunity. 
"Every time I go in a room, they all leave," Tiffany said before taking a cue from her sister Vanessa and bawling her eyes out, saying she has nobody over and over again. And again.
She then took her tears over to Frank and asked him what his deal was, telling him "they all want you out," and forming a pact with "the devil," as she called him.
Next up on the receiving end of the tears? Da'Vonne, who attempted to comfort Tiffany. "I hate everyone in here," Tiffany told her. "I suck at this game."
Nominations
Paulie nominated Tiffany and Natalie. 
"Tiff, last week there [were] three people in the house that wanted you gone, myself being included," he said. Paulie made sure to point out that Tiffany was the target and a "dangerous person" who's game is too close to her sister's, while Natalie is just "collateral damage." 
Road Kill competition
In this week's Road Kill competition, "Gasping for Air," the contestants have to hang as many air fresheners as possible in the shortest amount of time. The person who hangs the most within the time limit wins. Oh, and the trailer also happens to smell. It smells bad. 
Tiffany won the competition, and she chose to "secretly" nominate Corey. (She then told Frank, Bridgette and Da'Vonne.)
Viewers will learn who wins the Power of Veto Wednesday at 8 p.m. Eastern on CBS.
Read more: