South Africa's MeerKAT Super-Telescope Just Spotted Hundreds of New Galaxies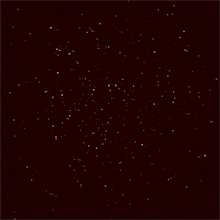 South Africa's new MeerKAT radio telescope is only 25% finished, but it's already revealed over 1,300 galaxies in a new, incredibly detailed image. Previously, we only knew of about 70 galaxies in the same location.
MeerKAT only has 16 of its 64 dishes in place right now, but it's already revealing new cosmic objects. 
Zoomed-in images from the telescope show details from the batch of new galaxies: In the image below, the panels on the right side of the image show galaxies with supermassive black holes at their centers. The lower-left panel shows a distant star-forming region.
Once MeerKAT is finished, it will join together with other radio telescopes around the world to help form the Square Kilometre Array (known as SKA). The system of telescopes will work together to create a whole square kilometer of collecting area. SKA will be "so sensitive that it will be able to detect an airport radar on a planet tens of light years away," according to the instrument's website.
MeerKAT is South Africa's first step in contributing to the project. 
"This telescope, which is predominantly a locally designed and built instrument, shows the world that South Africa can compete in international research, engineering, technology and science," Minister of Science and Technology Naledi Pandor said in a statement.
Read more: