ASOS Unveils UK Paralympic Games Outfits Ahead of Rio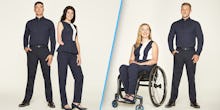 In addition to their obvious talents, the athletes from Great Britain and Northern Ireland are getting a stylish assist from ASOS at the upcoming Paralympic Games in Rio.
The British retailer collaborated with the British Paralympic Association, the organization that selects and manages the team, to create navy formal and ceremony outfits for the team to wear at the games in Rio de Janeiro in September. 
"It's the one time we swap our training kit for formal wear before the Games, and our bespoke ASOS outfits help make us look and feel even more like a world class team," Lauren Steadman, who will be competing in the para-triathlon, said in a press release about putting the outfit on for the first time at a team launch celebration on Saturday.
Also featured in the above photos are para-canoe athlete Robert Oliver, shooter Issy Bailey and soccer player Jack Rutter. 
The "simple, functional yet fashionable" collection, which was fabricated by ASOS' design team for a range of body types, will be provided to 250 athletes to wear during official team occasions.   
As Mic has previously reported, it's not always easy for people with disabilities, such as someone who might use a wheelchair, to find trendy clothing. "If you liked clothes before an injury, you're going to like clothes afterwards too," Izzy Camilleri, a fashion designer who sells clothing specifically for those who are seated, said in January. "Just because you're sitting doesn't mean you stopped caring about what you wear, and want to look good."
And ASOS is helping the Great Britain and Northern Ireland team do just that. "I'm more focused than ever now, to be able to represent ParalympicsGB on the best stage in disability sport," Steadman said. 
Read more: