E! News Takes Down Article Asking "WTF Is A Hot Comb?" After Twitter Sounds Off In Disgust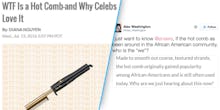 Apparently E! News has been taking some cues from the Kardashian family in discovering "new" hair trends. But forget boxer braids, this time celebrities are loving hot combs — at least according to a now-deleted post published on Wednesday.
In an article titled "WTF Is a Hot Comb — And Why Celebs Love it," editor Diana Nguyen wrote an explainer piece about what the hair tool — popularized in the early 1900s by Madam C.J. Walker as a way to straighten black women's hair — is and how to use it. 
"It's a flat-iron... it's a straightener... it's a hot comb," Nguyen wrote. She continued, quoting "celeb beauty guru" Suzie Kim: "According to the pro, many Hollywood hairstylists carry hot combs in their kits to combat baby hair, frizz and to perfect the slicked-back look. When humidity strikes, post-gym or if you have fly-aways along the hairline or a hair part, just comb any type of strands through the hot tool for a sleek finish."
Nguyen did mention the African-American community, saying, "[the hot comb] originally gained popularity among African-Americans and is still often used today. Why are we just hearing about this now? Hair relaxers and flat-irons have overshadowed its comb-shaped cousin." 
But that didn't stop Twitter users from calling out the post, especially for using the pronoun "we." 
It's not just E! or Kim Kardashian West and her half-sister Kylie Jenner who are wearing black hairstyles without acknowledging their vast histories. It's brands like ASOS who called Cara Delevigne's micro braids a new trend or ELLE UK suggesting baby hairs were inspired by Katy Perry. It's blogs calling bantu knots "mini buns" and "big heatless curls." 
Sure a hot comb might "work like a charm." But the six words "originally gained popularity among African-Americans," can't possibly explain the culture behind the hairstyle — something that is quite often ignored. 
At least the website offered up this helpful piece of advice: "Just be careful, though: Hot combs are extremely, well, hot." 
Mic has reached out to E! and will update with any comments. 
Read more: