5 Things About Rudy Giuliani You May Not Know, Ahead of His RNC 2016 Speech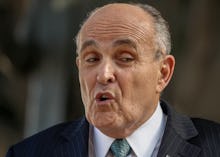 Rudolph Giuliani was the Republican mayor of New York City between 1994 and 2001. By the end of his second term in office he became lauded as the politician who led New Yorkers through the Sept. 11 terrorist attacks on the World Trade Center — and the man would not let you forget it.
Giuliani, 72, is set to speak Monday for the opening night of the Republican National Convention in Cleveland, where the party is expected to officially name Donald Trump and Mike Pence as the Republican presidential ticket. 
The top job is something Giuliani sought in 2008; he emerged as the primary frontrunner before suspending his campaign to endorse Sen. John McCain (R-Arizona), the eventual nominee. The former mayor also ran for Senate against now-presumptive Democratic nominee Hillary Clinton before suspending his campaign due to a prostate cancer diagnosis.
Here are five facts about Giuliani in the lead-up to his RNC speech:
1. Following 9/11, he raked in honors for his leadership.
Critics of Giuliani have said he let the praise of his leadership after the attacks go to his head. But it's not difficult to understand why the praise might have inflated his ego: In 2001, he was named Time person of the year, and he went on to be honorarily knighted by the queen of England the following year.
2. An extramarital affair nearly took down his political career.
New York City may have been billed for some costs of Giuliani's extramarital affair, according to documents obtained by Politico, the New York Times reported in 2007. While he was still married to Donna Hanover, Giuliani reportedly billed costs of his security detail through city agencies unrelated to the trips or security. 
The billing reportedly included trips to Southampton, New York, where his then-girlfriend, now-wife, Judith Nathan, had a condo, according to the New York Times. The spending scandal emerged as Giuliani faced criticism over his fiscal leadership, ahead of his 2008 presidential run.
3. He once dressed in drag and played hard-to-get with Donald Trump.
And there's video of it:
4. Politically, he's to the left of many of his fellow Republicans on same-sex marriage.
Giuliani has gone on the record saying his support for same-sex marriage would have been his biggest obstacle to winning the Republican presidential nomination, according to Gay Star News. He had long supported civil unions, before same-sex marriage became legal in New York state in 2011.
As his views evolved on the issues, he reportedly promised to officiate the same-sex marriage of a longtime friend, a promise he later broke, the New York Post reported in 2011.
5. He has used problematic rhetoric to make a point about "black-on-black crime."
In recent weeks, Giuliani has trotted out anti-Black Lives Matter rhetoric in response to issues of aggressive policing in black communities. If more African-Americans would "teach your children to be respectful to the police," they would be less likely to die in encounters with officers, he suggested during a recent appearance on CBS' Face the Nation.
Not only is he wrong about that, he relies on an oft-debunked idea that black-on-black crime is the real problem in the black community. Republicans are gearing up to nominate a presidential candidate who has indicated he thinks the same thing.
July 18, 2016, 6:47 p.m. Eastern: This story has been updated.
Correction: July 18, 2016
Read more: