Nick Cannon Partners With Men's Wearhouse to Help the Unemployed Re-Enter the Workforce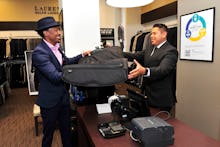 Nick Cannon wants to help those that are unemployed look good, feel good and therefore, find the confidence to succeed in a job interview. To help put action behind the sentiment, through the end of July the 35-year-old is partnering with Men's Wearhouse to collect gently used men's and women's professional attire (suits, ties, jackets etc.) to donate to those transitioning back into the workforce. 
"What better than to be able to hand off, you know, something that made you feel so good," he said during an interview with Mic. "To be able to donate suits just by going to Men's Wearhouse and knowing that it'll be put to great use for the people who are preparing themselves for the work force and may be less fortunate and may not be able to actually provide that themselves, and knowing that style is so important in making that first impression." 
All of the clothing collected, including the suits Cannon himself dropped off, will be distributed to over 180 non-profit organizations across the country that help people regain employment through job readiness programs and workforce assistance. 
Cannon grew up in the projects where he often was helped by non-profit organizations during his family's time of need. "I've always been taught giving is so much better than receiving," he said. "I see it as a privilege and as a duty."
He added: "It's all about making that statement and being a trendsetter. To be able push the envelope, to be able to say things no one else will say. To be able to help and provide for others when no one else is paying attention."
Watch Cannon's full interview with Mic's Darnell Moore below:
Read more: