Nike Featured a Plus-Size Model on Instagram — But There's an Unfortunate Twist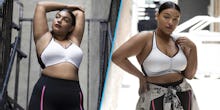 On Wednesday, Nike did something completely unheard of across its website and social media platforms when it posted a striking image of model Paloma Elsesser in one of its bras as a part of "Sports Bra 101" photo series.  
Why was this seemingly simple action considered so revolutionary? Elsesser, who categorizes herself as a plus-size model, doesn't have the "typical" body type that is so often used to model athletic gear. 
"People are still bound to the idea of what the image of health looks like, that image is a thin woman," Elsesser said in an interview. "However, just like every person is different, so are bodies. We cannot pigeonhole what it looks like to be healthy."
"Finally! A sport bra for all women," and "Beautiful and powerful, a real goddess worthy of the Nike brand," are just two of the hundreds of comments that are currently flooding Nike Women's Instagram account. 
Along with the applause, came a group of commenters that were quick to point out that the brand doesn't actually sell items for these plus-size women — regardless of who it choses to model the clothing.
"So that expanded you 1 cup size? Women bigger than a DD are the issue," one commented. "Great to see you using a real women, just sad your sizes don't represent it. I'm a 28 E/F (depending on brand) but have to settle for a 32 D in this bra," said another. "I wonder when we'll up the sizing?" a commenter asked. 
On its website, Nike sells its higher support sports bras up to a size 38E and lower support ones up to a size XL, which is equivalent to a 38D, 38DD and a 38E. But, in 2013, the average bra size was reported to be a 34DD, meaning there are likely plenty of individuals who cannot shop at Nike, despite their desire.
Nike has started to respond to some of these questions on Instagram with things like "We're constantly innovating and working to improve our product to make you the best athlete," and, "We hear you, and we're always looking to expand our selection." 
If Nike is so aware of the problem, why hasn't the company addressed it? As seen with Aerie's recent increase in sales, there is a clear interest and demand for size-inclusive products that go beyond a bit of body-positive awareness.  
Like Ashley Graham said to Mic in January, "Honey, I work out." As do many other curvy women that deserve proper attire from huge workout brands. And with websites like Runway Riot and FabUplus consistently featuring women of all different shapes, one image of a plus-size model, while nice to see, does not necessarily mean that it's progress for a company as far-reaching and influential as Nike. 
Read more: