Kat Von D Blasts Makeup Artist Jeffree Star, Accusing Him of Racism, Bullying and Drug Use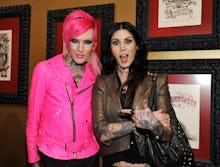 Kat Von D is parting ways with her former BFF Jeffree Star — and nothing about her public call-out makes this sound like an amicable split.
"After years of making excuses for, and rationalizing Jeffree's inappropriate behavior (including, promoting drug use, racism, and bullying) I can no longer hold my tongue after recent events," the 34-year-old tattoo artist said in a post across all her social platforms, making her feelings abundantly clear by placing a red circle with a line through it over makeup artist Star's face.
"I know that over the years, many of you were introduced to Jeffree through me, and regardless if you chose to continue to follow him or not, I just would like to disassociate myself from him and his brand from this point on," she explained. "I simply want to apologize to anybody and everybody who has ever had to deal with any of his negativity." 
Von D and Star's friendship dates back to 2011, when the makeup artist appeared on Von D's TLC series Miami Ink. Since then, the two have had a very public relationship, with the two often being photographed at events together and sharing love for one another on social media. In 2014, Von D even named a hot pink lipstick shade from her cosmetic line Kat Von D Beauty, after him. Which, just ask Kylie Jenner, is the ultimate sign of appreciation. 
According to her statement, "Jeffree" will be pulled from shelves, although it is currently still available on Sephora's website. 
The beauty industry is a tight-knit community, as seen by the droves of people addressing their confusion with the very public feud across Twitter.
Star, who has been known to voice all of his opinions, including ones calling out Kylie Jenner, to social media, quickly responded to Von D's accusations. "I'm yawning right now," he wrote. "She accused me of something that wasn't true." 
In this never-ending argument, Von D responded saying he stole artwork. Some Reddit users are speculating she might be referencing his Beauty Killer palette that uses art designed by Von D. 
Commenters on Reddit largely seem to agree with Von D, with some stating that Star is, indeed, racist. But, as others point out, in the past, Von D was accused of being anti-Semitic after she allegedly wrote a note to her old boss calling him a "Jewbag" and drew a swastika. She also was romantically linked to Jesse James, who's had multiple photos released of him doing the Nazi salute. 
Von D says she plans on posting a video explanation, so it's likely we will all get more clarification as to what exactly went down. 
Regardless, it appears that "forever" is shorter than she thought. 
Read more: