Is Black Lives Matter a Terror Group? If You Have to Ask, Read This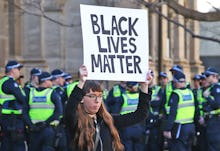 Black Lives Matter and the activists who created it have been called nearly everything except children of God by their critics since they emerged as a preeminent national social movement.
"We don't have to look to the Middle East anymore to find real life evidence of terrorism," Washington Times columnist Tim Constantine wrote in a September article. "Right here in the United States there is a group called Black Lives Matter."
Other attacks have come from the likes of conservative radio jockey Rush Limbaugh who also, more recently, reportedly threw the terrorism label at BLM. "They're quickly becoming a terrorist group committing hate crimes," he said, according to the Washington Times. Just last week, former New York City Mayor Rudy Giuliani suggested BLM activists were "inherently racist" simply for using the phrase "black lives matter," the New York Times reported, citing his appearance on CBS' Face the Nation.
Of course, people on Twitter have chimed in too.
So it shouldn't have been a shock when petitioners asked the federal government to designate BLM as a terror group, despite the fact that the White House has no role in such matters, as was pointed out in the response to the petition. Perhaps they've been taking their cue from politicians and pundits who also don't get the difference between BLM and black-led extremist groups that predate the movement.
Extremist groups, such as the New Black Panther Party and the Sovereign Citizens Movement, were linked in media reports to the black men who authorities say killed several police officers in Dallas and Baton Rouge, Louisiana, within the span of two weeks. The deaths of the officers came amid nationwide protests over the fatal police shootings of Alton Sterling and Philando Castile.
Even as anti-police violence has been condemned by voices in the movement, Charlene Carruthers said the media has lazily and irresponsibly reported on the distinctions between their collectives and those that watchdogs have labeled as hate groups. In the wake of recent violence, the media has instead stoked fears, said Carruthers, the national director of the Black Youth Project 100, a Chicago-based activist group.
"I believe what [media] are doing is intentionally erasing the scope of the work that we engage in," Carruthers said in a phone interview Monday. "There are people who believe that the work that we do is inherently dangerous and violent to the status quo, to American capitalism and to white supremacy. They will use any means to discredit our work."
The movement sprung up after the 2013 acquittal of George Zimmerman, who fatally shot unarmed black teen Trayvon Martin in Sanford, Florida. The social media-driven movement has become known for its mass street protests in which participants peacefully resist police commands to disband.
In a broader sense BLM is multigenerational and decentralized, and has formed tangible policy demands aimed at ending systemic racism and violence against black people, Carruthers said in the interview. Those demands include addressing police brutality, mass incarceration and socioeconomic disparities between whites and blacks, as seen on activism websites for Agenda to Build Black Futures, Campaign Zero and We the Protesters.
"We remain steadfast and committed to the work, in the way that those who came before us were as well." — Charlene Carruthers
That's far from the stated platforms of groups like the New Black Panther Party — a Dallas-founded outfit deemed as anti-white, anti-police and anti-Semitic by the Southern Poverty Law Center, which surveys extremism in the U.S. and tracks hate leaders. The NBPP, different from its forbearers in the Black Panther Party of the 1960s and 1970s, was liked on Facebook by Micah Xavier Johnson, the man identified as the shooter in the ambush that killed five officers in Dallas on July 7, according to the Associated Press.
"History has proven that the white man is absolutely disagreeable to get along with in peace," the NBPP stated in its 10-point platform, which calls for black citizens to arm themselves, among other things. "No one has been able to get along with the white man. All the people of color have been subjected to the white man's wrath."
Although the original Black Panther Party also advocated gun ownership among blacks, it did so as a means for self-defense against police brutality and not against all police.
Johnson reportedly told on-scene negotiators in Dallas he had been angry about Black Lives Matter and wanted to kill white officers as apparent retribution for the deaths of Sterling and Castile.
Just over a week later, violence raged against police again, in Louisiana. Gavin Eugene Long was identified as the suspect in the ambush on officers in Baton Rouge, where Sterling was killed, on Sunday. The attack left three officers dead and three others injured.
Long's digital footprint showed he was affiliated with "a black antigovernment 'sovereign citizen' group whose members believe they are indigenous to the United States and beyond the reach of the federal government," according to an SPLC statement released Monday. The watchdog organization pointed to a YouTube video in which it said Long rants about police being "against the people."
Shaun King, a New York Daily News columnist, shared a video on Facebook that he said shows Long did not want to be affiliated with any group. The SPLC did not offer further comment to Mic about Long's alleged hate group affiliations.
The public's lack of respect for BLM will not deter activists' work, Carruthers said. 
"We remain steadfast and committed to the work," she said, "in the way that those who came before us were as well."
Read more: