Melania Trump's RNC Speech Wasn't the Only Time She "Borrowed" Her Words From Black Women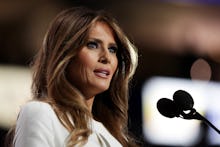 Melania Trump is a woman of few words. 
That is, if you're judging by her Twitter account, which mostly features photographs of her travels, floral arrangements and her family.
After she auditioned to become the nation's next first lady Monday night at the Republican National Convention in Cleveland, questions arose over whether her words were her own. It's been widely reported that Trump's primetime speech sounded eerily similar to the speech Michelle Obama won rave reviews for during in 2008 for the Democratic National Convention.
The Trump campaign has denied that Melania Trump lifted Obama's words for the speech. But the similarities between the speeches are striking.
It turns out Monday night's speech wasn't the only time Trump's words appeared to have first been said by a black woman. 
Although, as mentioned above, the vast majority of Trump's tweets feature photos of her lavish life, in 2012 she quoted (and not credited) words from the late African-American educator Marva Collins. Collins, who started a school with money from her own teacher's pension fund in Chicago, was most notably depicted in The Marva Collins Story, a 1981 TV movie starring Cicely Tyson as Collins.
Imitation is a form of flattery.
But the denial by the Trump campaign of any impropriety over the speech rubbed many critics the wrong way. "The blatant dismissal of politics' most visible black American woman's words perfectly illustrates how little value is placed on the words and experience of the black body," Fusion's Collier Meyerson wrote Tuesday.
For Trump's sake, being caught in a lie and not owning up to it only makes things worse. Ask Rachel Dolezal.
Read more: