Meet the Future Faces of Fashion Before They Become Household Names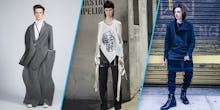 This week, fashion designers Ace Kim, Adi Mucktar-Barnes, Ming Peng, Haoran Li, Siying Qu and Raymond Natale all showed collections at the Jacob Javits Center in New York City. 
"Who?" you ask. These are the names of six recent college graduates that might soon be behind some of the biggest brands in fashion — that is, if they don't start brands of their own.
In collaboration with PROJECT, a trade show where buyers and press can view an abundance of menswear designs, the five hand-selected recent graduates from Parsons School of Fashion received the opportunity to display a Spring/Summer 2017 line and network with the wholesale community. 
See the meticulous pieces below and meet the people who might soon be the next big designers next to Parsons alumni Marc Jacobs, Derek Lam, Anna Sui, Narciso Rodriguez and Isaac Mizrahi. 
Ace Kim
This collection is titled, "Through the Looking Windows." and inspired by Bill Gates' work with the Ebola virus, as Gates is rumored to have purchased a patent for its vaccine. "I focused on the concept of 'ambivalence of human nature' through prints and textiles with the silhouette of imagining Bill in his early ages," Kim said in an interview.
Kim, who was born in Korea and educated in three different countries, wanted to be a storyteller since he was young. "I loved watching Disney movies, and recreating that experience with drawing, making, and acting," he said. "My forte as a designer is conveying serious messages with a sense of humor." 
He added: "Ultimately I would like to help and make the world to a better place." 
Adi Mucktar-Barnes
Mucktar-Barnes' collection was inspired by the culture of New York City public schools, from the energy and the graffiti to the slang words and music. "I didn't start designing clothes until I was at Parsons," he said. "My interest in fashion, however, started much earlier, when I was around 10 or 11 and I was starting middle school. Fashion is always changing and that is what keeps me excited and interested, it is always different in a new way."
He hopes to start his own line titled "MUCKTAR." 
Ming Peng
This collection is about the designer's experience with social anxiety and the choice to embrace and challenge these emotions. Peng, who was born and raised in China and was crowned Parsons Menswear Designer of the Year in 2016, was also inspired by photographer Michael Wolf who uses similar themes. 
"Fashion is something to represent people's life attitude and interests," he said. Peng plans on launching his own brand. 
Private Policy: Haoran Li and Siying Qu
Private Policy's collection is based off of a 2015 story about 2000 enslaved fishermen being rescued in Southeast Asia. The brand, which was founded by Haoran Li and Siying Qu, focused on the "artistic interpretations of imprisonment, restriction and pain," a press release read. 
While Qu is known for using innovative silhouettes and styling practices, Li focuses on the importance of storytelling. 
Raymond Natale
Growing up in downtown Toronto, Natale was often attracted to streetwear. "My collections are always inspired by the urban environment," he said. "Not a lot of fuss, Amazing clothing meticulously thought out detail."
Natale, who once worked as a landscaper before moving to New York City to attend Parsons, is currently developing his first collection. "For me, fashion is one of the ultimate forms of personal expression," he said.
If there's anything that the success Jacobs, Lam, Sui, Rodriguez and Mizrahi have had since leaving Parsons suggests, it's that these new designers are well positioned to make it big in the fashion industry.
Read more: