Laverne Cox Denies Nose Job Rumors in the Best Possible Way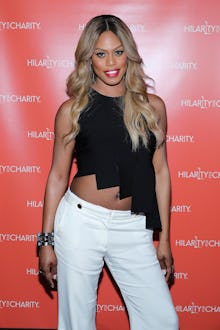 On Tuesday, Laverne Cox took to Instagram to clarify that a highly scrutinized photo, one which had many wondering if the Orange Is the New Black actress had undergone a nose job, was in fact the work of a Snapchat filter. (Imagine having to do this every time you altered an image. Would happen quite often, no?)
"For everyone who thinks I had a nose job, the surgeon is Snapchat," she wrote along with a side-by-side image. "The first photo has #nofilter. The second has the #snapchat beauty filter." 
She continued: "I try to love, embrace and accept myself everyday, filter or no filter, make up or no makeup, weave or no weave. Filters are fun but they are no substitute for me waking up, looking in the mirror and seeing the unfiltered me as beautiful and worthy of acceptance and love. #TransIsBeautiful."
Many have been supportive of the 32-year-old Orange Is the New Black actress, commenting things like "Girl even if you did, that's your business and you're beautiful either way" and "Who cares if you did or did not have work done. You're amazing and talented and a voice for so many." 
But, as some other people pointed out, this filtering option on the photo sharing app that many call the "beauty filter" could easily be renamed the "nose job filter," making it understandable that people believed Cox had work done. 
Snapchat has previously been called out for what seems to be its ideal of beauty — white skin and a skinnier face. Like one commented on Instagram, "Interesting how Snapchat's 'beauty' filter narrows the nose and lightens the skin." 
As one BuzzFeed writer previously reported in May, "I can't decide whether I'm happy that Snapchat has given me the opportunity to see myself the way I've always wanted, or mad that they have reassured me that my insecurities are completely legitimate."
So maybe it's time to take issue with the filters themselves, not the droves of people who are using it, or celebrities promoting the use of alteration. 
Regardless, there's one comment on Cox's image that'll really make you think: "Why would you use a beauty filter. That's literally like a glass of water taking a shower." 
Read more: