Shannen Doherty's Heartbreaking Photos Show a Side of Cancer We Rarely See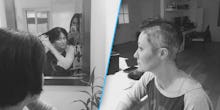 On Tuesday, former Beverly Hills, 90210 and Charmed actress Shannen Doherty chronicled an aspect of cancer that is often discussed but seldom seen up close: the emotional process of shaving one's head while undergoing treatment. 
"Cupcake pan, chocolates and a razor... Stay tuned," the 45-year-old, who was diagnosed with breast cancer in 2015, captioned the first image.
She then, in a six-part step-by-step Instagram series, showed the process of removing her hair — with her mother Rosa and friend Anne Marie Kortright by her side the whole time. 
Kortright reposted one of the photos to her account, writing, "I couldn't be prouder of you today. Your strength and courage is so inspiring and I am so very lucky to have you in my life. Thank you for blindly trusting me today to help you with such a big step. I will forever be there for you no matter what." 
Users have been commenting on Doherty's images, telling the actress to stay strong and sharing their own journeys with cancer, as well as thanking her for being so open on the social network.
"You have been such an inspiration for me ever since I was a teenager," one wrote. "Now, I hope you can draw strength from your family, your friends, and your fans, too, so you can keep fighting and keep smiling." And another: "You are amazing! Thank you for sharing this. Look it's not an easy process but there is a lot of us out there in the same boat and we are here to support you. Been in this boat for four years." 
Doherty's friend and fellow actress Sarah Michelle Gellar reposted the final image with the caption: "#wcw It already takes a strong woman to fight breast cancer, but it takes an even stronger woman to share that journey. @theshando you are not fighting alone, you have the thoughts and prayers of not only all of us that know and love you, but the rest of the world too. #fuckcancer"
Lifting the curtain on such an incredibly difficult experience highlights her resilience and helps others grappling with similar situations to know they are not alone.
Read more: