Texas' Racist Voter ID Law Is Struck Down Ahead of 2016 Presidential Election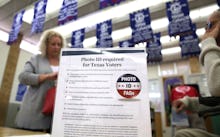 Texas elections officials may not be able to enforce a voter ID requirement this fall, as a panel federal judges has agreed with a lower court and found the requirement to be discriminatory against racial minorities.
On Wednesday, the 5th U.S. Circuit Court of Appeals delivered a significant blow to the Lone Star state's voter ID law, until a lower court can resolve questions about whether the law places an unconstitutional burden on the voting rights of Texans, NPR reported.
Texas' law, passed by the state legislature in 2011, would require voters to present a strict list of ID cards before casting a ballot. Those forms include a U.S. military ID, a birth certificate, a passport or a concealed carry permit, according to the National Conference of State Legislatures.
In 2014, a district court found the Texas law had been intentionally enacted to disenfranchise Democratic and minority voters, especially those who are black. Across the country, stricter requirements around voter identification sprung up in the wake of major Democratic gains in the House and Senate, as well as after the election of President Barack Obama.
According to the Brennan Center for Justice at New York University, 21 million eligible and registered American voters lacked government-issued photo IDs in 2006, including more than 600,000 such voters in Texas. Wednesday's appeals court decision marked the fourth time a court has found Texas' law had a disproportionate impact on black and Latino voters. 
"The court sent a message that discriminatory photo ID laws are an affront to our democracy and cannot stand," Myrna Pérez, deputy director of the Brennan Center's Democracy Program, said in a statement.
The U.S. Department of Justice brought one of the lawsuits against the Texas voting law, under former Attorney General Eric Holder. On Wednesday, Holder's successor, Loretta Lynch, heralded the appeals court's decision in a statement:
I am pleased with today's decision by the full U.S. Court of Appeals for the Fifth Circuit holding that Texas's 2011 photographic voter identification law violates Section 2 of the Voting Rights Act. This decision affirms our position that Texas's highly restrictive voter ID law abridges the right to vote on account of race or color and orders appropriate relief before yet another election passes.
In 2013, the U.S. Supreme Court gutted an essential piece of the Voting Rights Act of 1965, which required states with a history of voter discrimination to get federal approval changes to voting laws. Texas' voter ID requirement was enacted in the wake of that decision.
A full dismantling of Texas' law is still up to a lower court, which has been instructed to ease off Texas' racially discriminatory photo ID requirement ahead of Election Day in November. That's great news for the thousands of voters affected by the law, civil rights advocate Wade Henderson said Wednesday.
"These voters couldn't cast ballots in 2014 and won't ever be able get that election back," Henderson, president of the Leadership Conference on Civil and Human Rights, said in a statement. "But thanks to all of the hard work to leverage what remains of the Voting Rights Act, they will have that chance in 2016."