'Big Brother 18' Episode 13 Recap: Tiffany Gets Vetoed, Then Puts Up a Surprising Nominee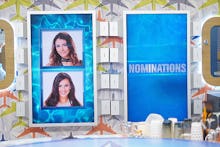 During Sunday's episode of Big Brother, Tiffany cried a lot, won the Road Kill competition and secretly nominated Corey for eviction, in an attempt to "shift the power" of the house. Would it work? After last week's last-minute blindside, it could. 
Wednesday's episode kicked off with Nicole sobbing about her "best friend in the house" being put on the block. She and the rest of the house debated whether it could've been Frank or Tiffany who won the Road Kill. Although Da'Vonne knew who it was, she kept her mouth shut, while Zakiyah called Tiffany a crazy bitch.
In an attempt to win votes back, Frank insisted to Corey that he "got his back," even though Corey was convinced it was Frank who nominated him. Frank then goes to Da'Vonne, who doesn't want to speak with him and instead just wants to sit and eat her "damn potato chips in peace." Same, Da'Vonne. 
In other important news, Paul discovered a new talent while in the house. He made some amazing muffins.
Power of Veto competition
Paulie chose Da'Vonne and Paul to play in the Veto competition.
Wednesday's sweets-themed competition was called Scooper Star. Each houseguest had to challenge a fellow player to an ice cream battle. Both were shown a picture of three cones with a pattern of scoops and had to recreate the patterns on life-size versions of the cones, but only one scoop could be transferred at a time. Whoever got the combination correct the fastest would move on to another round.
Corey first challenged Tiffany and won. Then Paul beat Natalie and Paulie beat Da'Vonne. Corey tried to throw the competition to Paul but ended up winning. So Paulie then threw the Veto win to Corey. It was the "cherry on top of his ice cream." 
With Corey likely to remove himself from the block, Tiffany said she needed to find someone to put up who would be a bigger target than she. She then began to out all of the alliances in the house to Frank in order to keep herself safe this week. What a strategy that was.
Veto ceremony
Although he considered not using the Power of Veto for Nicole's sake, Corey took himself out of contention for elimination. Tiffany secretly (although most people in the house knew it was her) chose Da'Vonne or, "a bigger fish to fry," as her replacement nominee.
In the Diary Room, Da'Vonne called Tiffany a cheap knock-off version of sister, Vanessa. She then ended the episode with a legendary hair flip.
The next episode airs Thursday at 9 p.m. Eastern on CBS, when viewers will learn whether Tiffany, Natalie or Da'Vonne will go home.
Read more: