Not Satisfied With One Layer of Foundation, This Heroic Woman Put on 100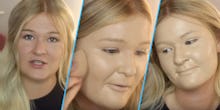 Over four million people have watched beauty blogger Jeely apply 100 layers of foundation onto her face. Let that sink in.
Inspired by Simply Nailogical's 116 coats of nail polish experiment, Jeely — who has over 30,000 subscribers — uploaded a video to YouTube on July 14 chronicling the three hours she spent applying the product over and over again. 
"People would probably like to see what it would look like but they don't have the time to try it out," she said in an interview, when asked why she believes the "100 Layers of..." videos are so popular. And with that many views, she is quite right. 
Here is what 20, 40, 60, 80 and 100 coats of foundation look like. Note: Jeely had to use a blow dryer to ease the process and, yes, she knows she has too much free time. As she said in the video, "What am I doing with my life."
20 layers
40 layers
60 layers
80 layers
100 layers
Prior to caking product onto her face, Jeely made another video of her applying 100 coats of mascara. 
She's not the only person jumping on the applying pounds of makeup bandwagon. Cristine Rotenberg, the nail art blogger behind Simply Nailogical, even created a new video with clear polish. Others are applying layers of liquid lipstick, highlighter and many are experimenting with Kylie Jenner's Lip Kit. 
So, if you don't feel like playing Pokémon Go, making one of these videos could be a fun — and messy — alternative.
Watch the full video below: 
Read more: