Kat Von D's Claims About Jeffree Star's Racism Confirmed In Shocking Video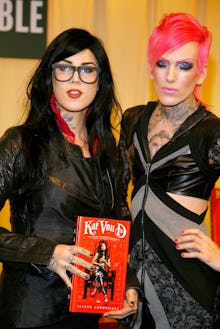 On Tuesday, Kat Von D publicly announced the end of her friendship with makeup artist Jeffree Star, citing his "inappropriate behavior," more specifically his racist words, as one of the main reasons behind the breakup. 
"The way that Jeffree chooses to live his life and treat other people is not something that I personally agree with," she said in a YouTube video. 
Now, days after explainers were released from both sides, Twitter users began to circulate some explicit videos of Star highlighting said behavior Von D had mentioned.  
In the compilation below, Star is heard yelling at strangers, calling them "poor Mexicans," apes, hoes, bitches, c**ts, telling someone she had a camel toe and using racial slurs on more than one occasion. 
"There were so many things that weren't true in the video," Star had said in the video he posted about the situation. "Obviously is my past perfect? Who's is? No one's is. I've definitely apologized for all my mistakes." 
Regardless of how long ago the videos in the compilation were filmed, many have been discussing Star's racist tendencies, including when he once joked about pouring acid onto someone to lighten their skin, even before Von D said anything.
As noted in Mic's original article about the situation, Von D, too, has a messy past. She's been accused of being anti-Semitic and was in a relationship with Jesse James, who's had photos leaked of him doing the Nazi salute. 
Both seem to have stated their last words on what has happened. 
But, if there is anything the constant back and forth suggests, it's that this conversation is far from over. 
Read more: