16 Eyeliner Makeup Tutorials That Won't Make You Look Like You Took a Sharpie to the Face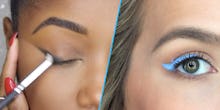 You put on all your foundation, highlighter and eye shadow and are are ready for the next step: the dreaded eyeliner. 
One wing is always longer, or one eye's liner is thicker. Or worse: you moved your hand in the slightest and now have black marks drawn down your face. 
We've rounded up some of the best winged eyeliner tutorials — from liquid to colorful liners — on YouTube that'll prevent you from spending 20 minutes trying to get one wing to match the other, or scrubbing product off of your face. 
Liquid liner
Denitslava Makeup
Denitsa, the beauty vlogger behind Denitslava Makeup, provides a slow step-by-step guide to using liquid eyeliner to create a wing. Better yet, she zooms in on her eye for each part of the process. 
Chinutay A.
Like Denitsa, Chinutay A, a vlogger known for her makeup and hijab style tutorials, makes sure to be close to the camera so that viewers can follow along. 
Gel liner
Manny Mua
Manny Mua, who has over one million subscribers on YouTube and recently appeared in advertisements for Benefit Cosmetics, prefers gel to liquid because he says he can get a sharper line. 
Laura Leth
In a four-in-one video, Leth shows how easy drawing a wing can be if you use a piece of tape. 
Eyeliner pencil
BeautyIsHeavenly
As Benita, the person behind the YouTube channel BeautyIsHeavenly, explains, not a lot of people create cat eyes with a pencil liner, although it is super simple. 
Jasmine Rose
In one tutorial video, Rose, a lifestyle vlogger, teaches viewers how to do a winged tip with an eyeliner pen, liquid eyeliner, pencil and gel.  
Pop of color
LeighAnnSays
In this video, Leigh Ann explains how to get a popular runway look using blue eyeliner. You draw the blue wing before applying black liquid liner on top. 
Teni Panosian
For her version of a blue liner, Panosian, another vlogger with over a million subscribers, used two different shades of the color for an "aquamarine" look. 
Speedy cat eye
Makeup Geek
If you don't have 20 minutes to sit down to apply a cat eye, Marlena, the vlogger behind the YouTube channel and cosmetics brand Makeup Geek, demonstrates how to do it in one minute with tape. 
From Head To Toe
Jen from From Head to Toe, like Makeup Geek, chronicles a quick and easy version of the cat eye. All you need is a few minutes. 
Drugstore products
KathleenLights
KathleenLights, who has over two million subscribers on YouTube, uploaded a video in which she does her entire makeup routine with only drugstore products. In other words, you don't need to dish out the big bucks for some quality wings. 
Eimear McElheron
McElheron has a tutorial in which she explains how to apply eight different eyeliner styles using drugstore products. 
Metallic hues
Unlike all of the previous tutorials, Jackie Torres uses a golden brown liner that makes her "brown eyes pop." 
LustreLux
If you still prefer black liner, LustreLux explains how to apply a metallic pigment before a winger line for a similar affect. 
Smokey liner
Jennifer Chiu
Like the idea of a cat eye, but want it a bit darker? A smokey eye might be your best bet. Chiu shows how to apply eyeshadow before gel liner with pop-up tips.  
Ellarie
Unlike all of the previous videos, Ellarie uses black eyeshadow as her liner, applying it like a wing and to her lash line.  
Eyeliner is not easy, and face it, you may never be able to copy Adele's near perfect liner. But, with these 16 tutorials, you'll be able to master popular cat eye trends seen on and off the runway, without looking like you just put on mascara and hopped in the shower à la Lauren Conrad's signature black tear.
Or this:
Read more: