Ivanka Trump's 2016 RNC Speech Was the High Point of the Whole Damn GOP Convention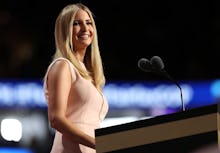 On the final night of the Republican National Convention on Thursday, Ivanka Trump pitched her father as a presidential candidate who would do wonders for women and mothers. 
"American families needed relief," Trump said during her speech at Quicken Loans Arena in Cleveland. "Policies that allow women with children to thrive should not be novelties, they should be the norm. He will fight for equal pay, equal work and I will fight for this right alongside of him."
Trump, as a fashion designer, a high-ranking executive in the Trump Organization and a mother of three, cited statistics that show women and mother, in particular, are paid less for their work than men. According to the Institute for Women's Policy Research, in 2015, women who worked full-time workers made only 79 cents for every dollar earned by men.
"As president, my father will change the labor laws that were put in place, at a time when women were up a significant portion of the workforce," Trump said. "He will focus on making quality child care affordable and accessible for all."
Trump's words may be hard for some to swallow, given her father's rhetoric on women during his campaign. His war of words with women in the media, namely Fox News' Megyn Kelly and Rosie O'Donnell, alienated female voters during the primary season, according to polls.
Trump said her father is a champion for women who choose career and motherhood. But that assertion contradicts Donald Trump's words more than a decade before. During a NBC Dateline interview from 2004, Trump called pregnancy "a wonderful thing for women." But he also said, "It's certainly an inconvenience for a business. And whether people want to say that or not, the fact is it is an inconvenience for a person that is running a business."
Reactions to the speech ranged from support to befuddlement over Trump's disregard for her father's reputation with women:
While viewers from all sides of the spectrum were wowed by her poise, the New Yorker's Emily Nussbaum suggested Ivanka Trump's ability to effectively rile a crowd was as impressive as it was troubling.
Whether Trump's words will be enough to give her father's campaign the boost it needs with women remains to be seen — but it's fair to say we'll see plenty more of her as November closes in.