This Color-Changing Hair GIF Is Going Viral — But It's Surprisingly Easy to Replicate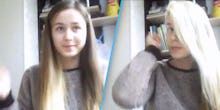 In just 24 hours, a GIF of a woman appearing to use sorcery to change her hair color with a quick head-flip is approaching 3 million views on Imgur. 
Why? Because the internet has questions: Is the clip digitally altered? Is it a wig? Does she have magical locks that change color depending on her mood?
Nope, it's just a decent dye job. Even so, is it brown hair with blonde highlights or blonde hair with brown highlights? 
"Her hair is bleached underneath, so all she has to do is flip her hair over to a severe side-part to completely cover her brown hair," celebrity hairstylist David Lopez said in an interview about the two- to three-hour process. "The key is to not have the blonde be yellow or brassy." 
Courtney Lee — a colorist at the Kinloch Salon in Brooklyn, New York — said, "I would highly not recommend doing that at home."
The Huffington Post U.K. reported the look is often known as "top-deck hair," named after a milk chocolate Cadbury bar that has a layer of creamy white chocolate. Get it? The blonde underneath is the white chocolate. 
So there you have it: You, too, can pay to have your hair bleached. Just don't expect to have a GIF of it go viral like this woman's did.
Read more: