A Victoria's Secret Retoucher Revealed the Unexpected Way Models Get Their Cleavage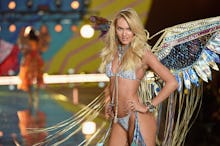 Victoria's Secret models are not-so-shockingly often a product of digital alteration. As it turns out, the brand also uses a series of hacks that help enhance boobs when the ladies are lacking the "necessary" assets. 
"They put a push-up bra under the bathing suit," Sarah*, a woman who's edited images for Victoria's Secret, told Refinery29 anonymously. "And we retouch out the bra ... a lot of [staffers] would complain because they even did it with strapless stuff. When you're wearing a strapless bikini, in no way, shape or form [can] you have cleavage. It's physically impossible with the way gravity works."
In addition to the bra, the girls are given hair extensions, "chicken cutlets" and shaping pads. "I don't think I ever was on a shoot with a model that had real hair," Sarah said. "If you hold up the bathing suit in your own hand, it's so heavy because they have all this shit sewed into it."
Once the bodies are physically the way the photo directors want them to be and the images are taken, the retouchers get to work. She explained in addition to nipples being erased and any extraneous armpit or pubic hair being edited out, she "was often asked to make breasts rounder, higher, perfectly symmetrical and, of course, larger," Refinery29 wrote.
They also added "meat," hid ribcages and plumped up butts. "Models are thinner than you actually think they are, and we retouch them to look rounder," she said.
Sarah also addressed why the retailer continuously chooses not to feature plus-size models, saying it all has to do with dollar bills. They had tried different models, and they just didn't sell.  
"One time, during a swim season, they had these two girls come in that had abs and thick thighs and busts," she explained. "They were really toned and their skin was amazing. They were still obviously models. But they were a different look. But, they didn't sell anything and so they stopped using those girls." 
While this might be the case for Victoria's Secret, Aerie, a brand that has adopted a no-airbrush policy and features models of different body shapes, has seen its sales rise dramatically. But Sarah insisted it was just a marketing scheme that happened to work for that company. 
"If you hold up the bathing suit in your own hand, it's so heavy because they have all this shit sewed into it."
Even so, she added, "When you see things like that pop up, you should vote your money towards it, because then they see it as a money-making thing and they'll continue to do it. Then, hopefully, other companies will say, 'Aerie is doing really well. Maybe we'll start doing that, too. Maybe people will want to buy more stuff from us.'"
Over the past two years, Victoria's Secret has gotten heat for exactly what Sarah insinuated "sells." It's established what it believes to be the "perfect body" and continues to lack any diversity with its selection of tall and thin models. As seen by its decision to reportedly cut off its legendary catalog, in addition to its swimwear and clothing lines, the company might not necessarily be thriving or as relevant as it once might've been. 
As Mic's Rachel Lubitz previously advised, "If you want to continue to attract customers, maybe think about who your customers really are, and what they look like." Throwing in two models with "thick thighs" might not have "worked," but imagine the statement Victoria's Secret could make by walking plus-size women down the runway or producing a bra for someone whose size is over a DDD. 
"As a society," Sarah told Refinery29, "we're the ones who choose this." And as seen by Aerie's success, society is more interested in choosing something real. 
Like this:
Read more: