Drake Finally Fires a Diss at Joe Budden, And All Budden Had In Response Was a Shady Emoji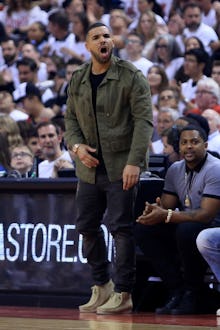 Forget Twitter fingers: emojis are worth a thousand words in the Joe Budden vs. Drake quarrel.
Thursday night, Drake finally responded to Budden's repeated diss tracks while on a Summer Sixteen tour stop in Dallas. "We got that good energy going on," Drake told the crowd. "I should've brought Joe Budden up here, let him do 'Pump It Up' one time tonight," mocking the rapper's 2003 hit before adding venomously: "Fuck that nigga."
It's the moment Budden has been waiting for. Each one of his three diss tracks has dared Drake to respond, but now that he finally has, all we got was a reserved Budden on Twitter: "Coming out of irrelevancy soon," he tweeted before deleting it. Instead, he left his reaction to the newly invigorated drama a different way: the smiling purple devil face — one of the most conniving, shady emojis in all of the emojipedia.
At first, the devil face suggested Budden was ready to start plotting, coming up with his next barb to hook under the 6 God's skin. But as soon as he got going he seemed to back off.
"He want attention lol," Budden tweeted, seemingly laughing off the whole affair just as things were starting to get interesting.
Budden has said he wants to reignite Drake's creative fire and get him engaged with the competitive spirit of hip-hop again. Mockingly singing a couple "Pump It Up" bars is not a sign Drake is there yet, but if Budden were really interested in seeing Drake spit venom, now is not the time to ease up. 
Earlier Thursday, the rapper and Love & Hip-Hop star was engaging with users asking if he were planning on releasing yet another Drake diss track. "Lmao smh...Nope, back to irrelevancy I go," Budden wrote. That was just before the news of Drake's diss began to spread, but it still seems Budden isn't ready to cast off this nonchalance.
When he finally had his moment to move himself further into the hip-hop spotlight, Budden cowered, deleting his tweets and hiding behind a snarling purple mask. These are not the makings of a true lyrical murderer. We expected more from both sides, and honestly it might just be better for everyone if we just stop the charade and end it here.
Read more: