WikiLeaks DNC Leak: 19,252 Emails Containing Embarrassing Democratic Info Now Available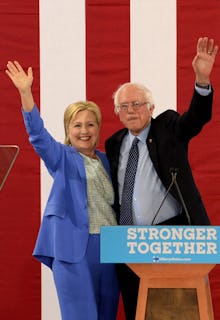 This can't be good news for Hillary Clinton and the Democrats: On Friday, nonprofit media outlet WikiLeaks released thousands of internal emails from top officials at the Democratic National Committee that show how the political party worked to make Clinton the presumptive Democratic presidential nominee.
But in releasing the 19,252 emails, WikiLeaks also published the personal information of donors, Gizmodo reported. The information includes donors' credit card, social security and passport numbers.
The emails show how one top DNC official planned to use Clinton challenger Bernie Sanders' religious beliefs (or supposed lack thereof) against him. In a May 2016 message, DNC Chief Financial Officer Brad Marshall appears to suggest to DNC communications staff that someone in the party get a voter to ask if Sanders believes "in a God." Marshall doesn't name Sanders, but Sanders was the only Jewish candidate.
"He had skated on saying he has a Jewish heritage," reads the leaked Marshall email, singled out by the Intercept. "I think I read he is an atheist. This could make several points difference with my peeps. My Southern Baptist peeps would draw a big difference between a Jew and an atheist."
Marshall told the Intercept that he didn't remember sending the email and, if he had, that it would not have been Sanders he was referring to. Sanders' name is not mentioned in the email, but he was the only Jewish candidate running during the primary.
Release of the emails is part of WikiLeaks' "Hillary Leaks" series, which launched in March and includes more than 30,000 emails sent to Clinton's private email server while she was Secretary of State. Gizmodo called out WikiLeaks for failing to "redact the private information of unsuspecting Americans" in the newest batch of emails.
The emails came out just days before the start of the DNC convention in Philadelphia, where Clinton will formally accept the party's nomination. After a bruising campaign against the former New York senator, Sanders endorsed Clinton at a July 12 event in New Hampshire.
Neither campaign had commented on the WikiLeaks emails as of Friday afternoon.
Correction: July 22, 2016 
Read more: