Is Kylie Cosmetics Eye Makeup Next? All Signs Point to Yes.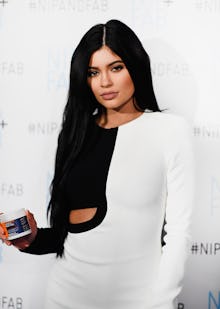 On Friday, Kylie Jenner teased "one of the biggest Kylie Cosmetics surprises" that was soon to come from her beauty brand. What could it be? A new Lip Kit color that didn't resemble a Smurf's lips? Or maybe a gloss or liner? As it turns out, it seems the youngest Jenner might be straying away from her coveted lip products completely and moving into new terrain altogether: eye makeup. 
"Kylie Cosmetics Surprise will be revealed on TheKylieJenner.com tomorrow @ 10am," her Snapchat read on Sunday. 
Shortly before the reminder, the 18-year-old posted a mysterious video of an eye, which was later reposted by her brand's Instagram page. 
"Maybe it's an Eyeshadow palette," one person guessed on Instagram. "It's a gel eyeliner," said another. Yet another: "It's probably lashes." 
While everyone seems to have their own guesses as to what it might be, back in April, Jenner reportedly filed a trademark for Kyshadow, Kyliner and Kybrow, meaning its likely that it'll be either eyeshadow, eyeliner or a brow product. The description on the trademarks hint at possible makeup kits. 
Monday's release is the latest in a series of "#SummerSurprises," with the first being shades Maliboo, Kristen and Ginger. Tune in to TheKylieJenner.com at 10 a.m. Pacific to find out what's next. And remember: In March, Jenner asked on Twitter, "What would u wanna see next for Kylie cosmetics," with 47% saying an eyebrow kit. 
Well, King Kylie fans, you just might be getting what you've been asking for. 
Read more: