Jerame Reid, Kashad Ashford and Abdul Kamal: These Police Shooting Cases Deserve Attention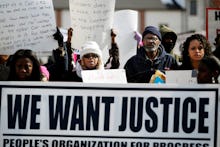 The deaths of Alton Sterling and Philando Castile, black men who died in July at the hands of police, sparked nationwide protests, prompted televised conversations about race and inspired star-studded tribute videos that went viral.
But the real reasons why the men's names are known by people who are thousands of miles away from Baton Rouge, Louisiana, where Sterling was killed, and from Falcon Heights, Minnesota, where Castile was killed, are structural. When the media cherry picks shooting cases, it encourages authorities' lack of transparency and angers the affected communities.
This was the argument driving activists Monday in New Jersey as they prepared to rally outside the U.S. Attorney's Office in Newark.
"Families are very frustrated when their neighbors know the names of police violence victims in other cities, but not the names of people in their own city," Zellie Imani, organizer of Black Lives Matter chapter in Paterson, New Jersey, said in a phone interview.
The People's Organization for Progress, or POP, a New Jersey-based social justice group, gathered Monday to pressure federal civil rights groups to investigate into several New Jersey police shooting cases. The cases, all black men killed by law enforcement in the Garden State, largely flew under the radar.
Nine of the 24 people killed by law enforcement in New Jersey were African-American in 2015, according to a database maintained by the Guardian.
Now, in the wake of Sterling and Castile's deaths, New Jersey activists are renewing their publicity efforts. Too few people outside of northern New Jersey have heard the names Jerame Reid, Kashad Ashford and Abdul Kamal, POP chairman Lawrence Hamm said.
"You can learn more about Michael Brown and Eric Garner in local papers and on TV outlets than you can about Kashad Ashford or Abdul Kamal," Hamm said in a phone interview. Similar to the cases of Brown, the unarmed teen shot to death in August 2014 by a police officer in Ferguson, Missouri, and Garner, a 43-year-old who suffocated in an New York City officer's chokehold in July 2014, no police officers have been indicted in the New Jersey shooting cases that also involved victims who were unarmed.
One key difference is that two of the three shooting death cases POP seeks publicity for were not captured on video, said Imani, who is not affiliated with POP. "That plays a big part in the immediate outrage locally and nationally," he said.
Activist said another factor in the lack of publicity for the cases is the involvement of New Jersey Office of the Attorney General. It has previously declined families' and activists' requests for information, while it carried out external investigations. "When it's hard to get transparency, there's a lack of new coverage," Imani said. "[Authorities] really bank on things to die down, so they can convene the grand jury quietly and release the results of their investigations quietly."
Here are the cases that New Jersey activists and victims' families are asking for federal investigations:
Abdul Kamal
In November 2013, Kamal was shot and killed by police in Irvington, New Jersey, after authorities said he became combative toward officers who were responding to a domestic call. Officials said Kamal had his hands in his pants pocket and threatened to harm the officers. But as he started to show his hands, three officers opened fire.
They shot Kamal 13 times. He was found to be unarmed, with only a cell phone in his pocket, NJ Advance Media reported. In February 2015, a grand jury declined to indict the officers. POP requested a federal investigation in a letter to U.S. attorney Paul Fishman's office.
Jerame Reid
In December 2014, Reid, 36, was shot by two police officers in Bridgeton, New Jersey, after he refused their order to stay in his vehicle during a traffic stop. The shooting was caught on a police dash camera.
A grand jury in Cumberland County chose not to indict the officers last year. Reid's family also met with officials in Fishman's office to request a federal investigation.
Kashad Ashford
In September 2014, three Rutherford police officers and a state trooper shot and killed Ashford after he crashed his car while fleeing the officers in a stolen SUV. The officers said they fired on Ashford, 23, because they believed he was armed and thought he was trying to ram them, according to the Record.
Ashford was not armed. In October 2015, after months of protests staged by his family, a grand jury decided not to charge the four officers. POP has also called for a federal investigation into Ashford's death.
Read more: