5 Ways Michelle Obama Changed the Game as the First Black First Lady of the U.S.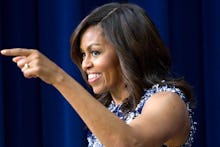 What's not to like about Michelle Obama? 
As the first black first lady in United States history, Obama, who will address delegates on Monday during the opening night of the Democratic National Convention in Philadelphia, has changed the way people view this national role.
Obama — born Jan. 17, 1964, in Chicago and raised on the Southside — is a Harvard-educated lawyer, an author, a public servant and a mother of two. Although she's well-positioned and qualified to serve policy-oriented functions in the White House, Obama has embraced the arts, fashion, higher education and military families.
National opinion polls of the first lady show she posted higher ratings among Democrats and Republicans than her husband, President Barack Obama. In April 2009, months after she and Barack Obama first entered the White House, she had an approval-disapproval rating of 79-8, according to Gallup. The polling firm's most recent favorable-unfavorable poll, in 2014, showed the first lady had a 66-29 rating.
Here are five ways Obama changed the game as first lady:
1. She raised the profiles of fashion designers of color — and did so very early on.
The first lady's "one-shouldered white silk chiffon gown embellished with organza flowers with Swarovski crystal centers," as the Smithsonian National Museum of American History described it, turned heads at the 2009 inaugural balls. It was designed by Jason Wu, the Taiwanese-Canadian designer whose stardom shot up after Obama wore it. The first lady was also dressed by Thakoon Panichgul, a Thai-American designer, for the 2008 Democratic National Convention, and designer Tracy Reese, who is black, for the 2012 Democratic National Convention.
2. She's always kept it real about race and racism in the U.S.
"I wake up in a house that was built by slaves," the first lady told 2016 graduates of the City College of New York in June. Although it has been true of every first lady who has lived in the White House, no other first lady has put it as bluntly.
When she addressed 2015 graduates of Tuskegee University, a historically black college in Alabama, her prepared remarks noted the role racism has played in her life and the role that it would likely play in the lives of those graduates:
The world won't always see you in those caps and gowns. ... Instead they will make assumptions about who they think you are based on their limited notion of the world. And my husband and I know how frustrating that experience can be. We've both felt the sting of those daily slights throughout our entire lives — the folks who crossed the street in fear of their safety; the clerks who kept a close eye on us in all those department stores; the people at formal events who assumed we were the "help" — and those who have questioned our intelligence, our honesty, even our love of this country. 
3. She has been engaged with popular culture in unprecedented ways.
From the "Evolution of Mom Dancing" with late night host Jimmy Fallon to dunking on LeBron James, and the more recent carpool karaoke episode with talk show host James Corden and rapper Missy Elliot, Obama is an undeniably hip first lady. She even dropped a few bars of her own in a campaign urging young people to seek higher education.
4. She's arguably the most visible black woman in the nation stressing healthy eating and active living.
Let's Move, the first lady's healthy living initiative, celebrated its sixth anniversary in 2016. Obama has managed to enlist NFL star Colin Kaepernick and pop megastar Beyoncé, among many others, in campaign promotional efforts.
5. She brought women and children into focus, amid a national discussion of military veterans.
Most of the federal holidays and observances for the U.S. military and for war veterans are centered around the service of those personnel. With the creation of Joining Forces in 2011, Obama and Jill Biden stressed the need for public and private-sector support of military families. Specifically, they sought out commitments for military families as well, "through wellness, education and employment opportunities," according to Obama's White House biography.
Read more: