Kylie Jenner Announces First-Ever Eyeshadow Palette: "This Is Literally My Baby"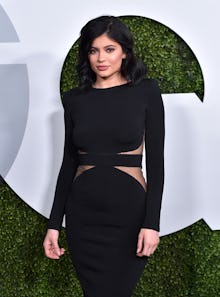 Kylie Jenner's new eyeshadow palette "KyShadow" is about to take over the 18-year-old's Lip Kits as the most coveted beauty product on the market. 
After teasing a surprise item on her Instagram and Snapchat, the youngest Jenner took to her website to announce her brand Kylie Cosmetics' latest venture: eye products. "Surprise, I'm launching a Kyshadow palette," she wrote alongside a video tutorial introducing the new product. "I've been working on this for months and I'm so excited to finally reveal the big news to you guys."  
In the video, Jenner explains how this is the shadow she can be seen wearing in all of her recent Snapchat videos (including the tutorial where she happened to leave out the brand she was using) and Instagram photos. 
"I have been dreaming of this moment for way too long," she said of the nine shades. "This eyeshadow palette is literally my baby."
And it's safe to say her fans are just as elated. 
She has yet to tell us when the product will go on sale or how much it will cost. Jenner mentioned how important it was that she release this bronze pallete first, suggesting there will be additional eyeshadow palettes up for sale in the future.
We can only imagine how difficult it will be to get our hands on one of these babies. May the odds be ever in your favor. 
Read more: