Kylie Jenner's KyShadow Is Out Today — Here's Everything You Need to Know to Get It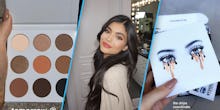 Kylie Jenner's first ever eyeshadow palette, KyShadow, is set to be released Tuesday. And if the success of her Lip Kits suggest anything, it's that her babies will not be easy to get your hands on. 
But that doesn't mean you shouldn't try. To help in your efforts, here's everything you need to know about KyShadow's release.
What exactly is it? 
This version of KyShadow is entitled the "Bronze Palette." It consists of nine neutral shades: Jasper, Quartz, Topaz, Goldstone, Citrine, Tiger Eye, Hematite, Bronzite and Obsidian. As many on Twitter have pointed out, it does not come with a brush or mirror, like many other palettes on the beauty market do. 
How much is it? 
The Bronze Palette will cost $42, the 18-year-old announced on Twitter. There is an additional $8.95 shipping fee within the United States and $14.95 internationally. So in total, KyShadow will cost you $50.95 in the US and $56.95 if purchasing from abroad. 
When and where can you buy it? 
KyShadow will be available at 6 p.m. Eastern on Tuesday at KylieCosmetics.com. 
What are your chances of being able to purchase one? 
It's hard to say. As of late, Jenner has been releasing more Lip Kits at a time than she had previously. Some are still available right now to buy on the site, which was never the case when the teen entrepreneur first started selling her beauty products. 
If she chooses to release a limited amount today, it's likely there will be a restock soon. And then another one. So, if you don't manage to secure the Bronze Palette, don't lose hope. Plus, she's restocking summer shades Kristen, Maliboo, and Ginger and the Exposed, Candy K and KoKo K glosses, so you'll likely be able to get some type of King Kylie product. It might just not be KyShadow. 
Good luck!
Read more: